Organising a Team Building in Brussels
Brussels is the perfect playground for your team building! Whether your company is based in Brussels or not, this is a perfect opportunity to spend time in the Capital and organise your activity. Leave your headquarters or arrive in the city for the first time and enjoy the advantages of the city centre: organise a team meeting in a conference room, a dinner with all your employees in a restaurant in the city, followed by an outdoor activity in the streets of the centre of Brussels!
Escape Games for a Team Building in Brussels
Choosing an Escape Game as a team building activity is an original and fun way to compete with colleagues around riddles and different missions.
Depending on the Escape Game chosen, you will have missions and riddles adapted either to the scenario or directly to the city itself. Chase the zombies or take a leisurely (but not too much, you have 120 minutes) stroll through the city.
Thinking, cohesion and cooperation: three elements that you will need to carry out your mission successfully!
The most in our Escape Game? If your company is bilingual or trilingual, it is possible to follow the game in different languages (FR-NL-EN) in the same team! Everyone will be able to choose their language on their smartphone. A game perfectly adapted to all your employees!
Rise of the Dead Brussel
Uw stad wordt in quarantaine geplaatst: het Z-1 virus heeft zich verspreid en veel burgers zijn besmet. Middelen zijn schrikken, honderd zombies zwerven door de straten. Jij en je team hebben maar één uitweg en slechts 120 minuten om er te komen.
Speel Rise of the Dead Brussel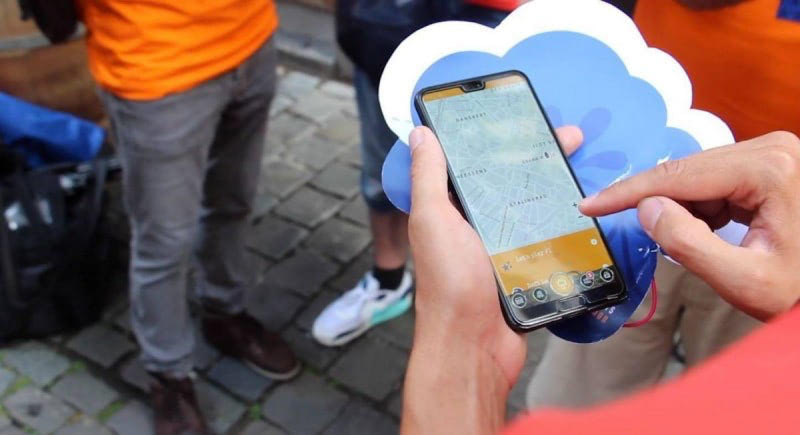 Discovering Brussels during a Team Building
Do you work in Brussels but have never really had the time (or taken the time) to visit it? This is your chance to become a day-tripper and discover the capital! Our Escape Games will take you to well-known but also more hidden corners where you can go in search of little details that you might never have seen by yourself. Enjoy a walk in the heart of the city to (re)see Brussels in a different way.
Surprising Brussels
Met Surprising Brussels is het de stad zelf die het hart van het spel vormt, daar hebben we ons op gericht! En zoals in een klassieker Escape Game heb je een beperkte tijd!
Speel Surprising Brussels
A team building with Coddy is...
An assistance during your game
The Coddy team is committed to assisting you throughout your game, remotely or with a member of our team on site, it's up to you.
Picture souvenirs
During your game, you will have photo assignments to carry out: these will be returned to you afterwards so that you can keep memories of this moment and share them with all your employees!
Small teams
In order to encourage everyone's participation and to perfect your experience, we advise you to form small teams of 4 to 6 people maximum. (In this way, we also respect the required social distances)
The discovery of a place
Do you think you know Brussels by heart? Wait until you play with Coddy! In addition to discovering corners of the city, you can also learn a few anecdotes*.
(*depending on the chosen game)
The possibility to adapt the game to your business
Departure or arrival point to be modified according to your wishes and/or your availability? No problem! Coddy adapts to you. Routes, missions, puzzles, delayed departures... everything can be personalised.
A Leaderboard
The leaderboard (in the application) will show you at any time where you are at (in terms of points) in relation to your colleagues. The final ranking will show you the 3 teams on the podium!
Your online quote to organise your Team Building
Estimate the cost of your team building online, on our website. Tick what you are interested in and what you need for your event and receive your quote directly!