Celebrating Halloween in Lyon 👻
The scariest time of the year is coming back soon! 🎃
Pumpkins, ghosts, vampires and zombies have taken over our homes, the shop aisles are filled with orange and black decorations and all we hear about are horror movies and fancy dress parties.
If you're celebrating Halloween in Lyon this year, we've got something for you.
Urban Escape Games for Halloween 👻
Have you ever heard of urban Escape Games? You won't be locked in a gloomy room for 60 minutes here, but you will have to "escape" from the city. Our scenarios take you to a special, worrying, even frightening world in which you have a mission: to survive and/or save others.

Two urban adventures are waiting for you this year to enjoy the Halloween atmosphere: Rise of the Dead and Red Nights! 🩸
You don't know them yet? Let us introduce them to you.
Rise of the Dead: Run and surprise your teammates in an apocalyptic universe. The most important thing is to survive!🧟
Dozens of cities have already been contaminated and overrun by hordes of zombies. You must flee your city before it's too late! Can you escape the undead that are on the prowl?
Red Nights: Face the dangers lurking in the city to save your strangely missing brother! 🩸Can you overcome the challenges that lie ahead? 😰
Inspired by true events, this story takes you back to October 1684, a troubled time. There are disturbing disappearances every week, and today it's your brother who seems to have vanished. Can you save him before it's too late?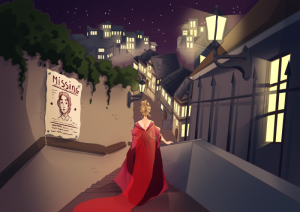 Event for Halloween 2023: release of Red Nights
For Halloween 2023, Red Nights, the new special Halloween scenario, which was first launched in Brussels in 2021, will be rolled out in 6 major Belgian and French cities.
On 31 October, if you are in Paris, Bordeaux, Lyon, Brussels, Namur or Bruges, you can play as a team and try to find your brother who disappeared under mysterious circumstances. Carry out the investigation, in time, before you too disappear...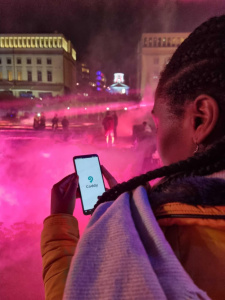 Surviving Halloween Party
Surviving the Halloween party with Coddy means surviving the zombies, surviving the mysterious kidnappers, saving your brother, and simply succeeding in your mission! Think you're up to it?
Here are some tips to help you on your quest:
Choose good teammates first, they will make all the difference! The smartest, the fastest, the bravest and the funniest too. Surround yourself with a team that has a lot of energy. It's also best to choose your team members according to their affinity for Halloween. It would be silly to take Karen who only likes unicorns and fairies.
Charge your phone well. It's the main element of your adventure! Without it, you won't be able to do the investigation or the zombie run. An external battery is never a bad thing in apocalyptic situations: you don't want to run out of juice in the middle of a chase.
Go to a city you don't know yet: it can be great to experience the atmosphere of a place other than the city centre next to your home. You'll be visiting the city while you're playing, so kill two birds with one stone.
Keep an open mind: during your game you will notice that there are no actors or decorations around you. The game is virtual and takes place on your smartphone, in the Coddy app. Of course, we try to do everything possible to immerse you in the chosen scenario. But keep in mind that the zombies you will see walking down the street are not hired extras, but just Michel who has just come out of a party completely drunk.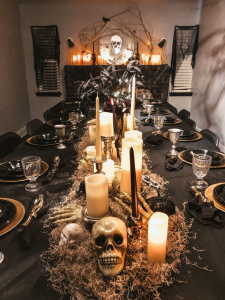 Ideas for a Halloween party in Lyon
How to have a successful Halloween party in Lyon? There are many things you can do to make the most of the most terrifying night of the year.
For example, you can start by decorating your house, your apartment,... Small candles, pumpkins and pumpkins, ghost and vampire figurines, witches hanging from the ceiling and spiders on their webs climbing the walls...
Once the atmosphere is set, invite your mates to join you, dressed up, for the aperitif. For ideas of petits fours in the shape of tombstones, bloody cocktails or carved pumpkins, you can take a look at our Pinterest Board, we have pinned lots of cool ideas.
Then, to continue the evening in style, go and carry out your urban Escape Game as a team! Choose between zombies or mysterious disappearances and try to complete your mission in time.
Finish off with a drink to celebrate your victory (or not?) in the city centre in a bar, for example in :
🍷 Le Bar 42
🍸 Le café des Antiquaires
🥃 Le garage
🍺 Le groom
🍹 Le Bootlegger