Citywide Escape Games - Exploration
This type of game takes you on a discovery tour of the city. You will have to search on the buildings and monuments, the answers to the riddles asked.
Characteristics
Data (4G/5G)
Mobile data required
Plot
This 100% Covid-friendly interactive city tour in Brussels is an original combination of historical facts, a fun city game and a tasty discovery of Brussels specialities collected in a gift pack.
Discover Brussels in a playful way with friends or colleagues thanks to this interactive tour. Using our app on your smartphone, you walk at your own pace along the 20 best and most beautiful spots of the historic city centre. Thanks to geolocation, our friend Julien, a true Brussels expert, will guide you to many well-known and lesser-known sights.
Besides a short explanation and funny anecdotes, there is also a fun city game on the programme. Cracking riddles, doing puzzles, searching for information, taking original selfies... They will make it an exciting and playful voyage of discovery.
Tasting Brussels specialities is also part of the game, of course. We have collected a few Brussels delicacies in a delicious gift pack that you can collect from one of our local partners during or after the tour.
This game is not eligible for the visit.brussels pass.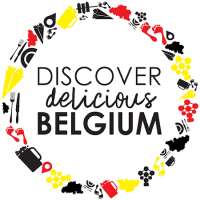 Storyline by
Discover Belgium
Book this activity
This game is played on the Coddy app but is sold by our partner . To book your activity, please visit their website.
What is the price?
39€ for 2-3 people (including a 16€ gift pack)

59€ for 4-6 persons (including a gift pack with a value of €16)
This tour offers a 100% Covid-friendly tour of the city, if you stick to the measures that are in force. A small reminder:
Disinfect your hands regularly.

Respect social distancing as much as possible.

But above all, enjoy this unique moment of fun in these unusual times.
Discover Belgium
Discover Belgium guarantees the perfect organisation of original, culinary and cultural city events. Delicious Belgian products and surprising gift baskets can be found in our Delicious Belgium webshop. For 10 years, we have been the reference in discovering Belgian cities and their flavours.
Book this activity
This game is played on the Coddy app but is sold by our partner . To book your activity, please visit their website.
Location
Starting Point
Grand-Place, 1000 Ville de Bruxelles
5 next days forecast in city
23-09
21°
24-09
22°
25-09
23°
26-09
24°
27-09
20°
28-09
18°
FAQ
The rate is per team of up to 6 players. This means you only pay the advertised rate once for the entire team.
If you are more than the maximum number of team members allowed during your purchase, additional people will be able to follow the game on the participant' phones.
Should a participant's phone run out of battery power, another participant can easily take his place.
Yes, all it takes is one person in the group who can read and use a cell phone and the whole group can enjoy it. The puzzles are more or less difficult but always have clues to help solve them.
You can start the game whenever you want within 365 days from the date of purchase. You will receive by email the code to start the game immediately after the purchase, this code is to be entered in the Coddy application.
Application updates are tested many times before being deployed, but it is possible that a bug may still pass our vigilance. For that, you benefit from a Chat support directly in the application as well as a button to get out of a problematic situation, such as a street exceptionally closed for works for example.
Yes, a connection is required to download the game, which you can do at home via wifi. Then, during the game, it will be necessary to leave the 4G activated during the course to validate your answers and improve the geolocation but this represents very little data consumption.