The concept of urban Escape Game
A new way to play an escape game, via your smartphone, by following a route in the city center filled with puzzles. You will be guided and geolocated by the application in each place you visit in order to solve all the games and riddles.
An excellent choice to discover the city of Nantes as a team, with your family or friends.
Escape game in Nantes: a fun and original visit
Do you really know Nantes, the Venice of the West? In any case, it has everything to seduce you. How about visiting this city off the beaten track by trying an urban escape game in Nantes? All you need is a smartphone on which you can download our application. And that's the start of an adventure like no other. So, go through the city centre, look for clues everywhere and solve the enigmas proposed. Wake up the private detective in you. But it's a team effort. You're guaranteed to have fun with your family and friends!
The well-thought-out scenarios will give you a hard time from time to time. Sometimes you'll find yourself in a wholly different, even strange world. With our Alchemist treasure hunt, for example, you will travel back in time to the year 1555. So get ready to experience something magical.
The escape game Nantes better than the escape room
An outdoor activity like no other, the life-size escape game is a trendy variant of the traditional treasure hunt and escape room; it is an adventure that is carried out with the help of your smartphone.
You will walk through the streets of Nantes and discover various places in the city with the help of the map included in the application. You will then have to solve puzzles that sometimes require a lot of observation in order to spot details or information that are not directly perceptible.
The main advantage of the Urban Escape Game is the tourist dimension it adds to the game. The urban escape game is the best way to get to know a city, its key places as well as its hidden corners, in a fun and original way.
(Re)discover Nantes by solving riddles
Our treasure hunt will give you the opportunity to discover the known and unknown places of Nantes. With your team, you will have to solve riddles, follow the thread of an investigation and go through a number of districts. You'll get to the bottom of things, you'll use your brains to unravel the mysteries surrounding Nantes. Our application has been designed around the most important places in the city of the Dukes. Our escape game will show you another city that you are far from suspecting.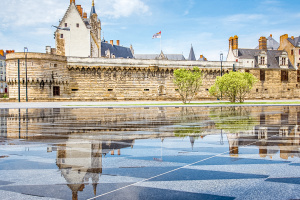 Miroir d'Eau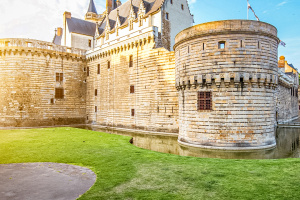 Château des ducs de Bretagne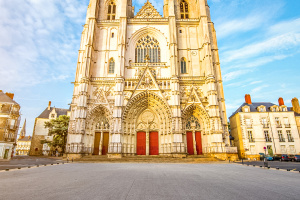 Cathédrale Saint-Pierre-et-Saint-Paul de Nantes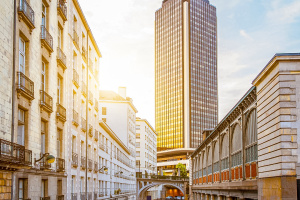 Tour Bretagne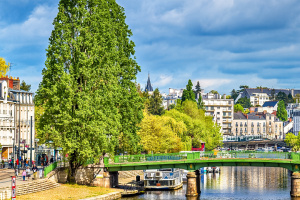 Les bords de l'Erdre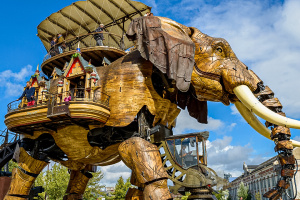 Le Grand Eléphant
Musée d'histoire naturelle
The advantages of visiting Nantes through a treasure hunt
Thanks to original scenarios, our escapes games in Nantes offer participants the possibility to stop at various emblematic places in Nantes, to be in the middle of the action and to dive into an immersive adventure.
With the help of your phone, you will make incredible cultural discoveries while having fun.
You'll move around in a real world, but with a little bit of sublimation thanks to our original scenarios.
You will no longer be a simple visitor walking through the streets, rediscovering the different districts of the city, but you will become an adventurer, a hero of a quest! This is the promise of our urban escape games in Nantes.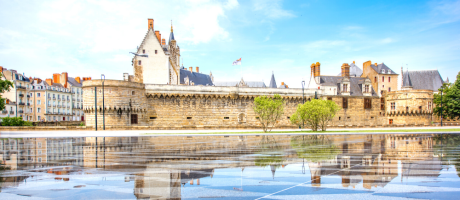 Explore Nantes and discover its hidden gems
Choose an urban adventure in Nantes now and in a few minutes you'll be exploring the city while having fun.
Choose an adventure
The urban escape game: a family escape game
Children are probably the hardest to keep focused during a guided tour. They are quickly dissipated and don't care about historical anecdotes or seeing yet another church on their way!
This outdoor escape game will allow you to entertain your children while showing them around Nantes, without them even realising it!
It's the perfect way to explore the city, let them blow off steam, have fun with various puzzles and work as a team as a family.
The best attractions in Nantes
Château des ducs de Bretagne
Cathédrale Saint-Pierre-et-Saint-Paul de Nantes
Musée d'histoire naturelle