You will find on this page all the solutions to the riddles we post on our social networks!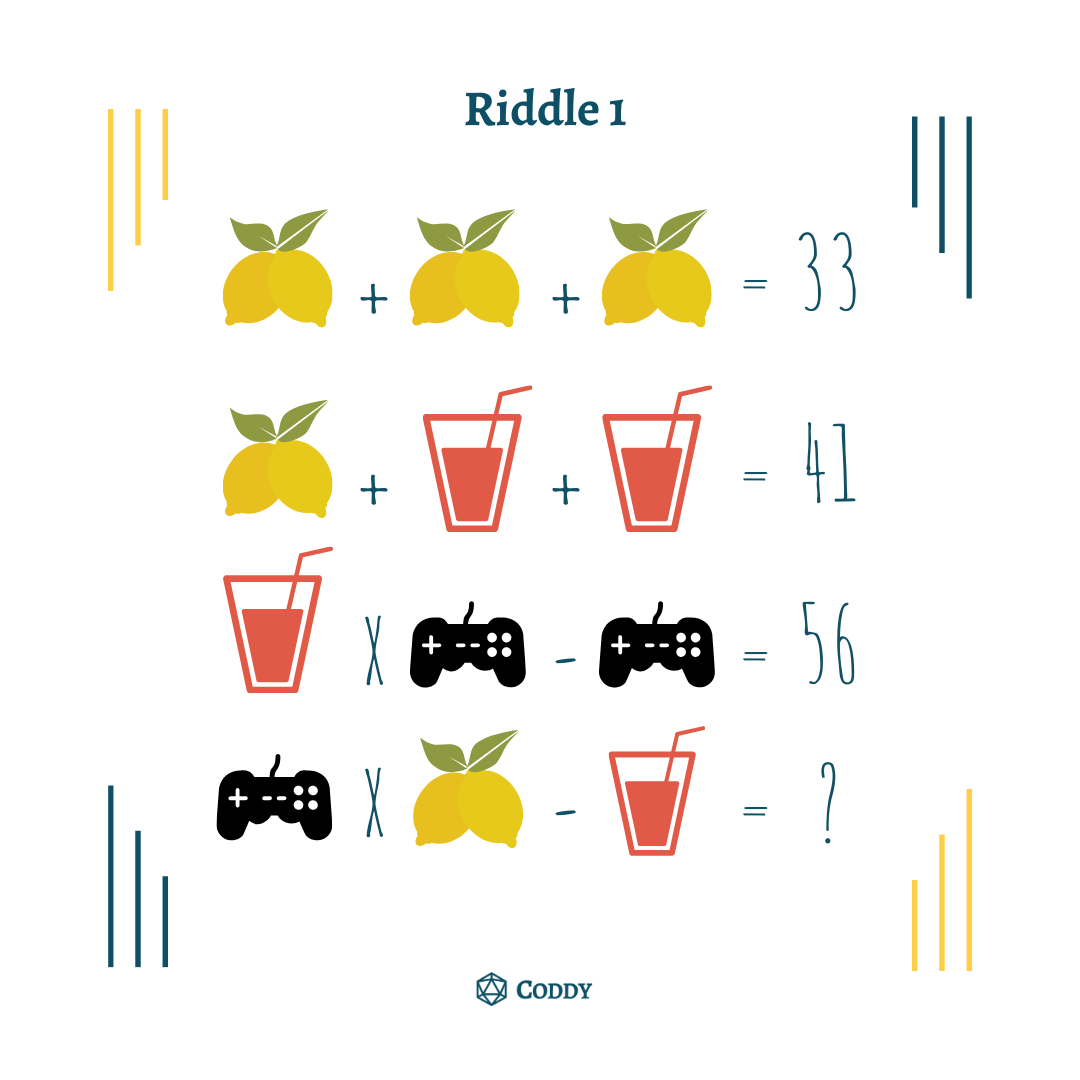 Riddle 1
Answer:
Lemon = 11
Juice = 15
Gamepad = 4
Total = 29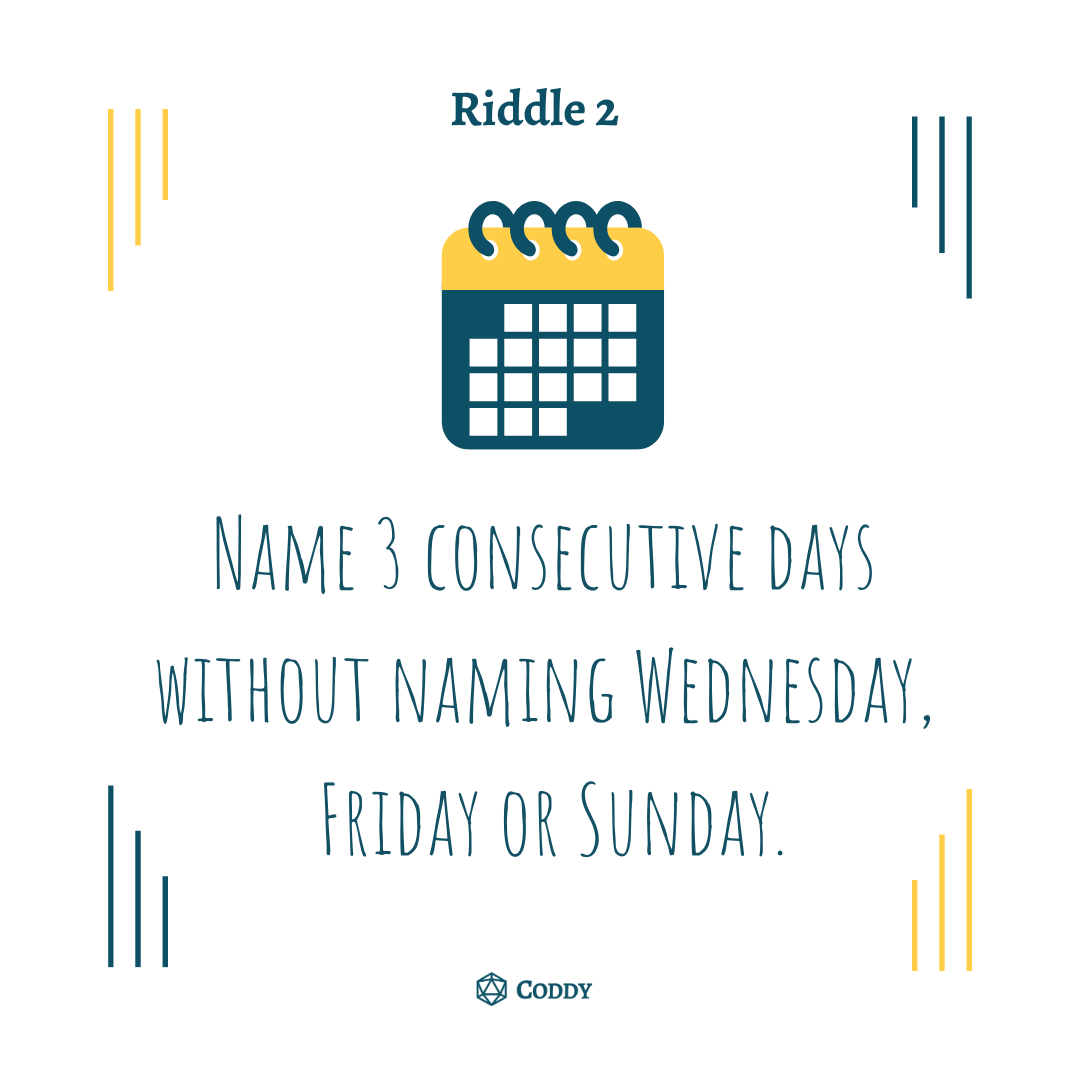 Riddle 2
Answer:
"Yesterday, today & tomorrow"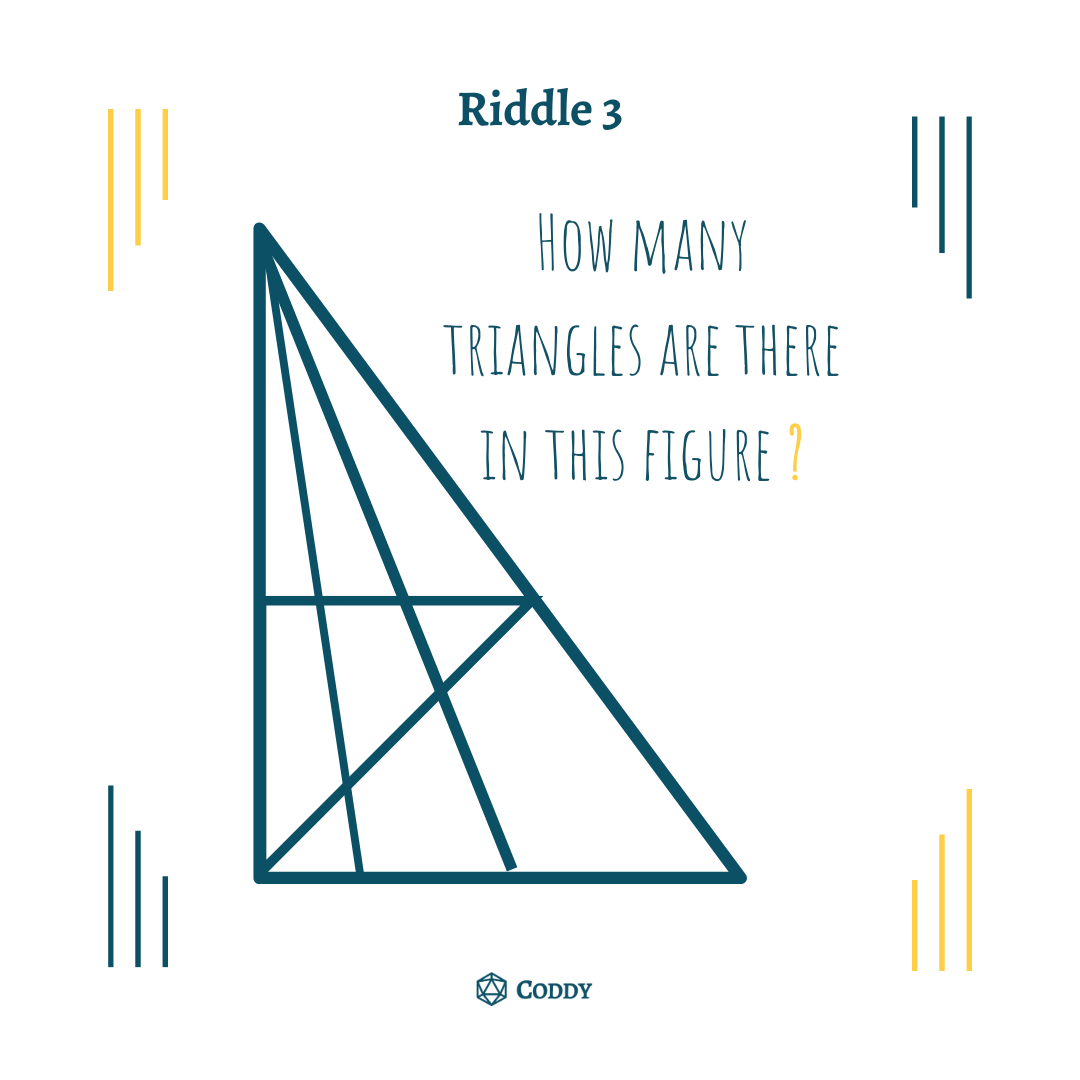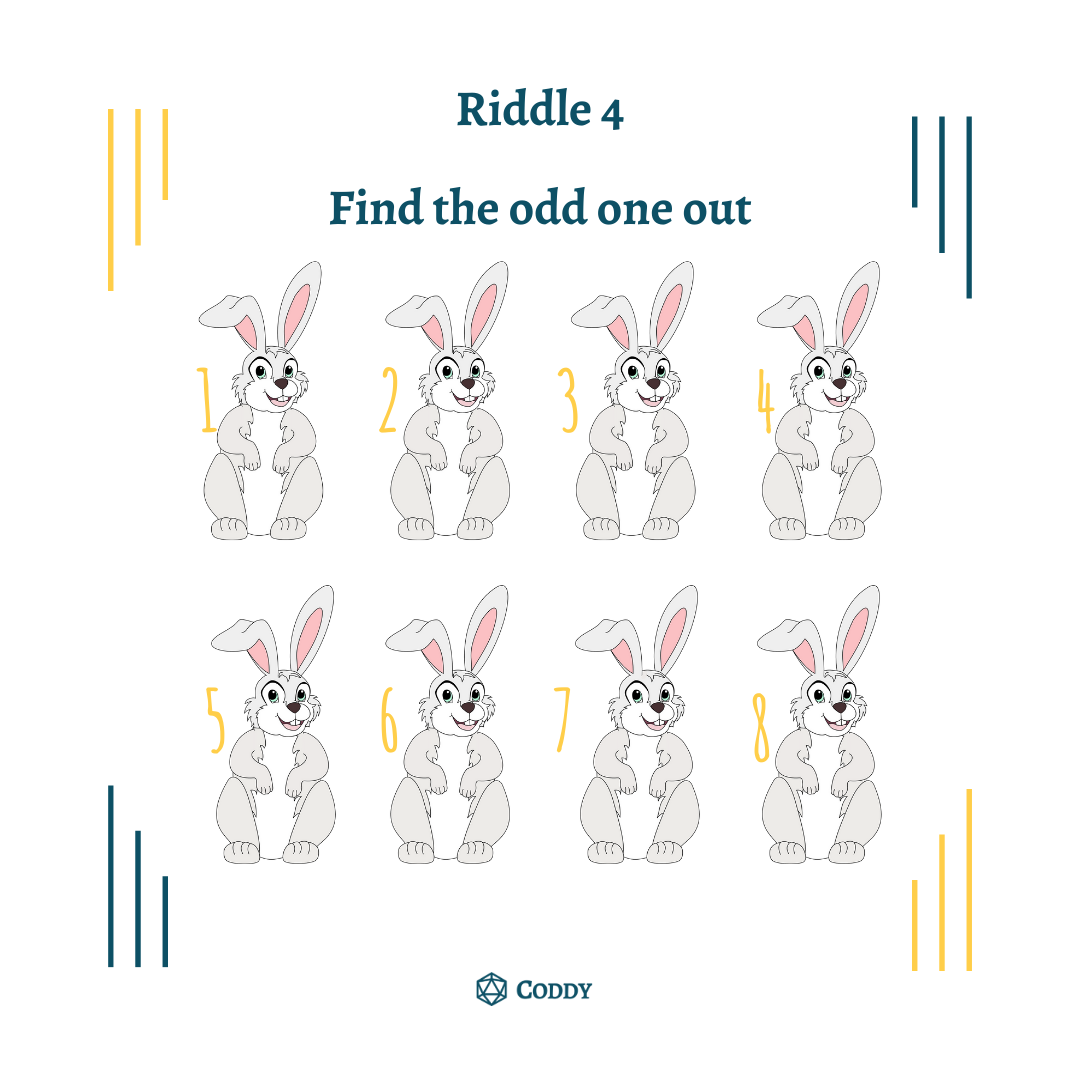 Riddle 4
Answer:
The odd one was number 7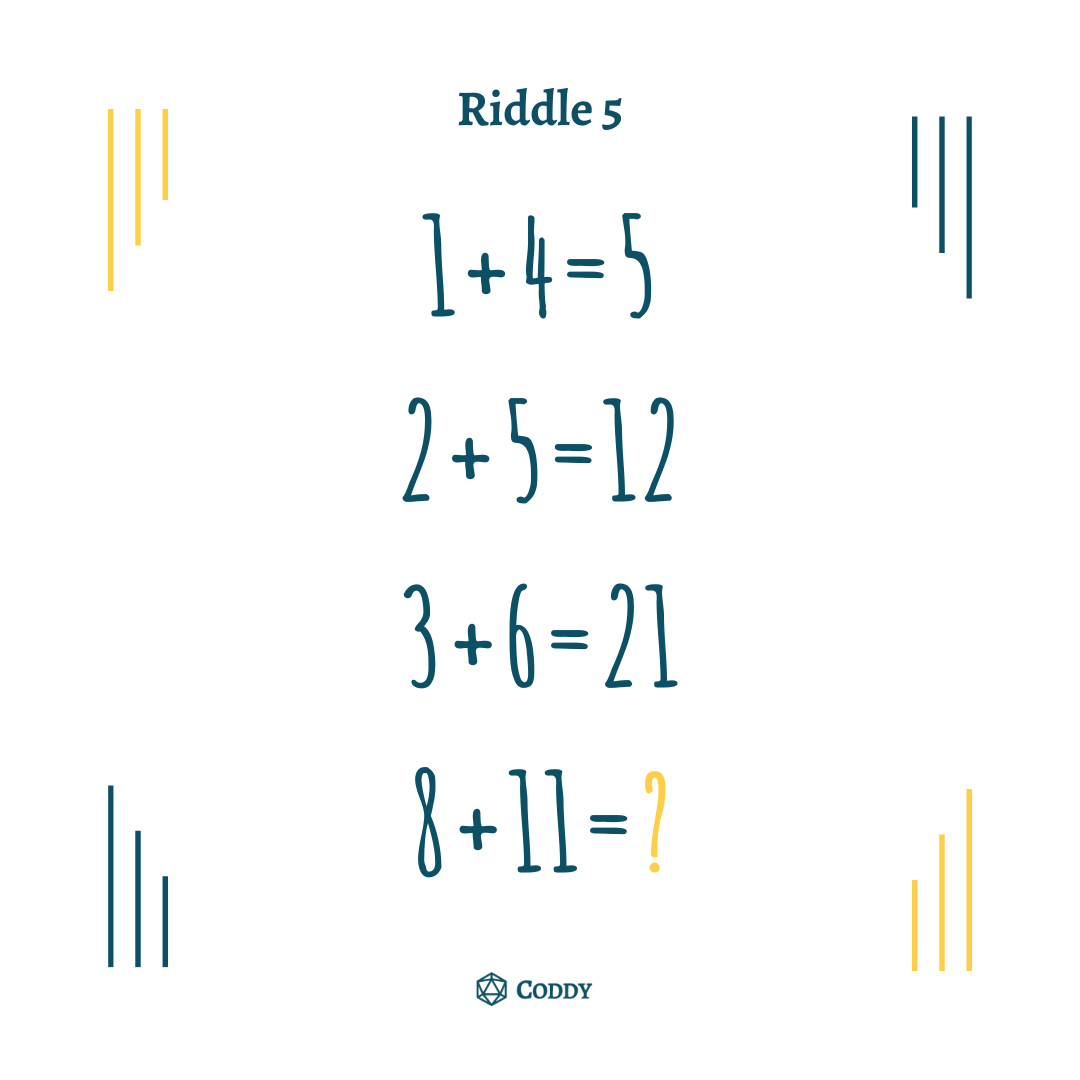 Riddle 5
Answer Method 1:
1+4 = 5
(5 +) 2+5 = 12
(12 +) 3+6= 21
(21 +) 8+11= 40
Answer Method 2:
1+ (1x4)= 5
2+ (2x5)= 12
3+ (3x6)= 21
8+ (8+11)= 96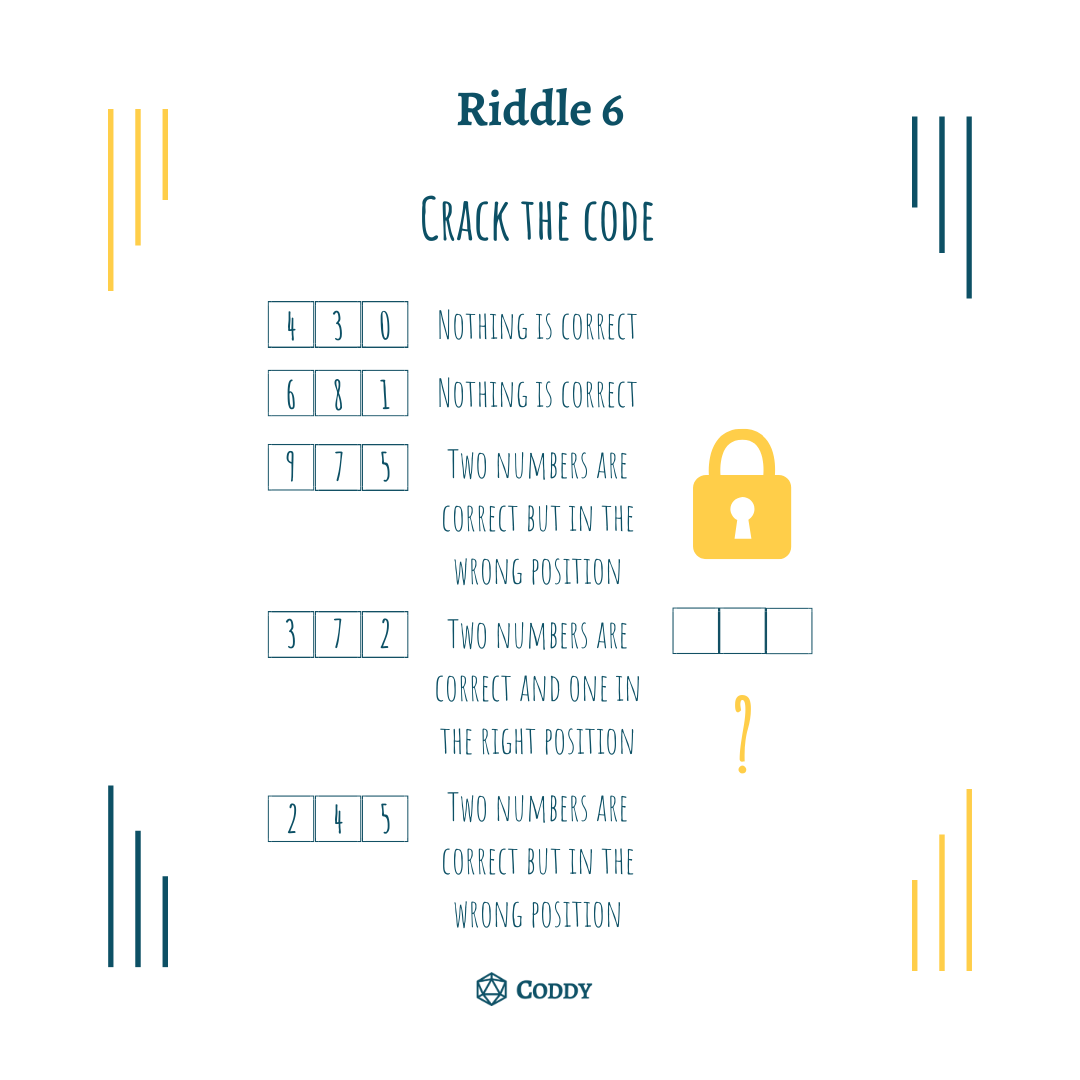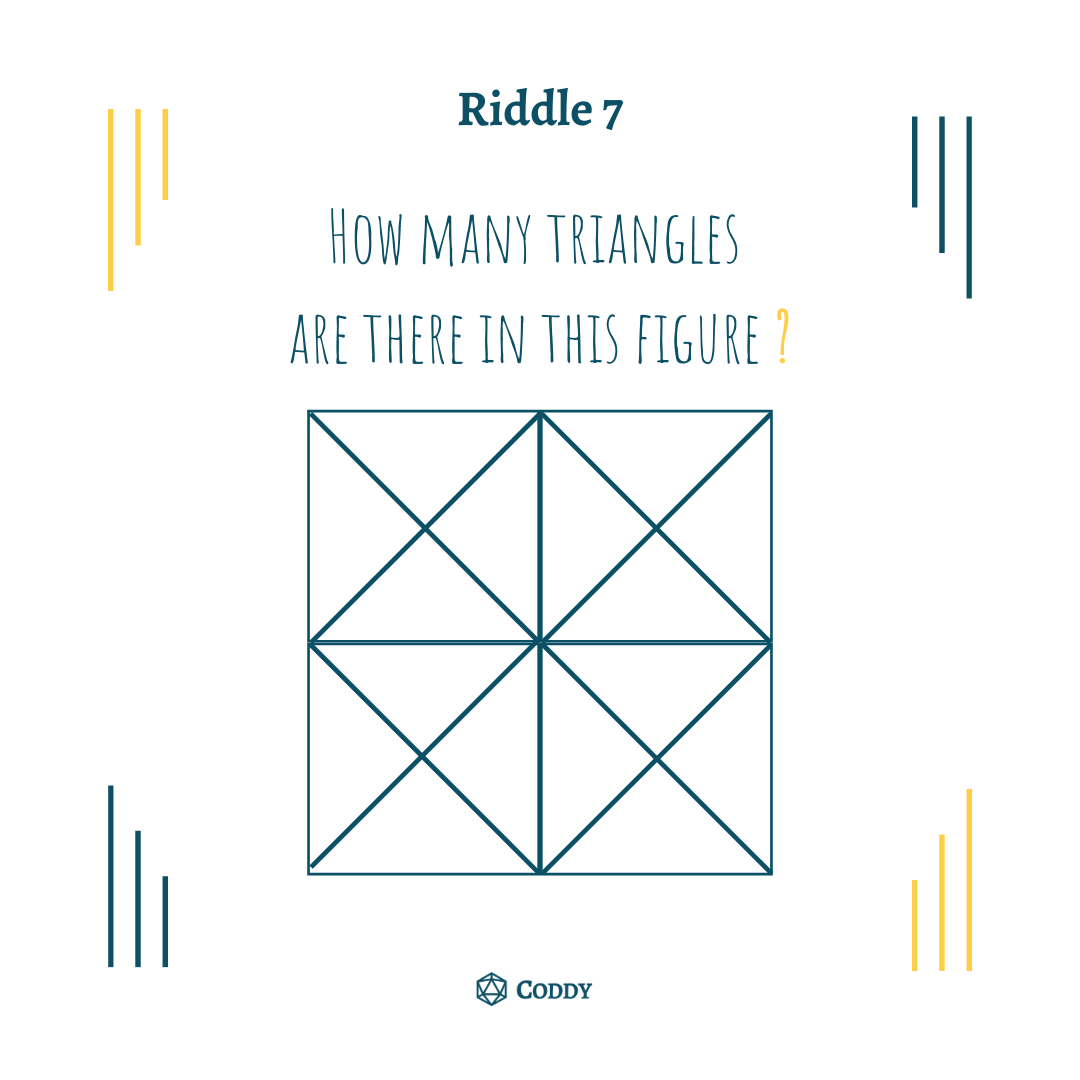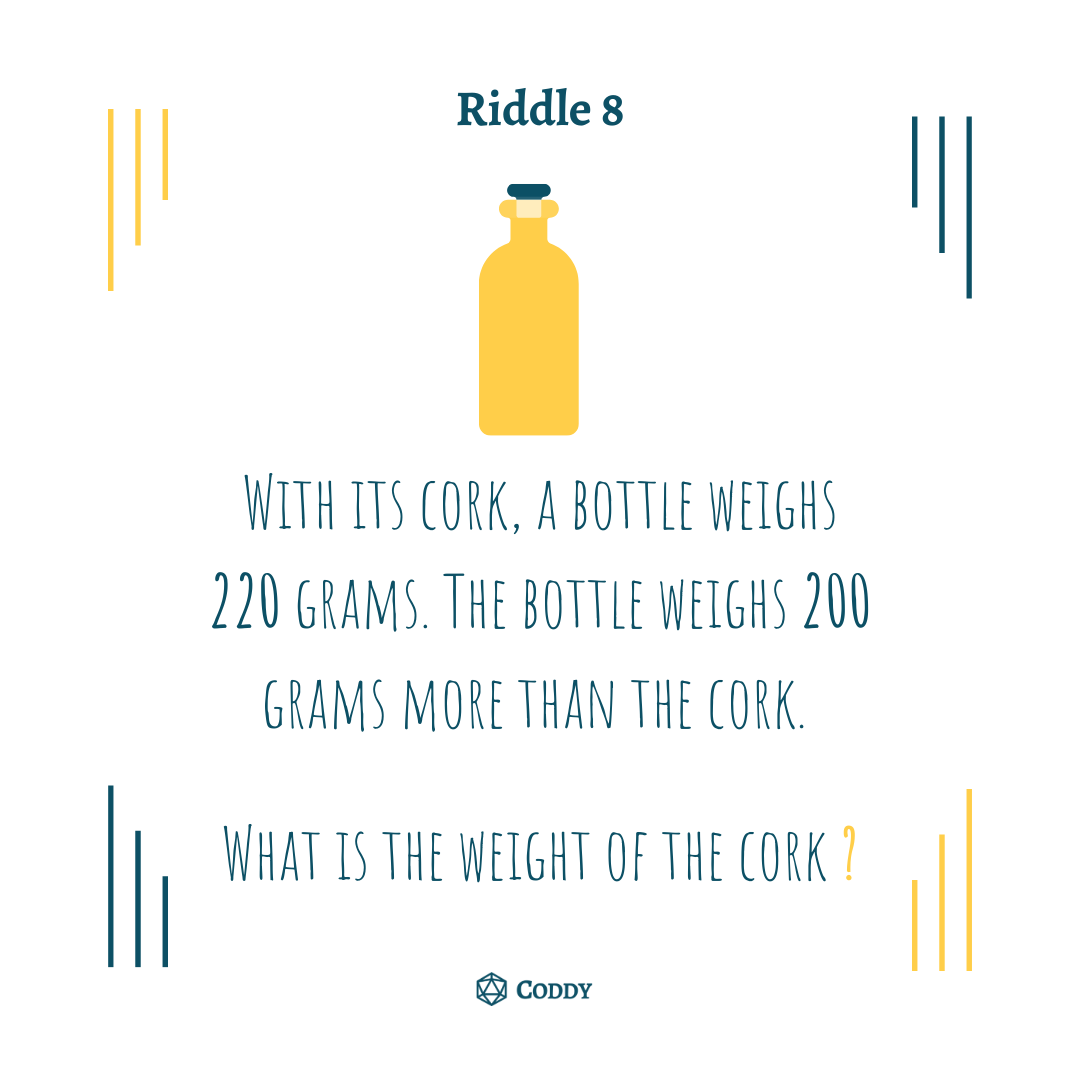 Riddle 8
Answer:
200 + 2x = 220
2x = 220-200
x = 20/2
x = 10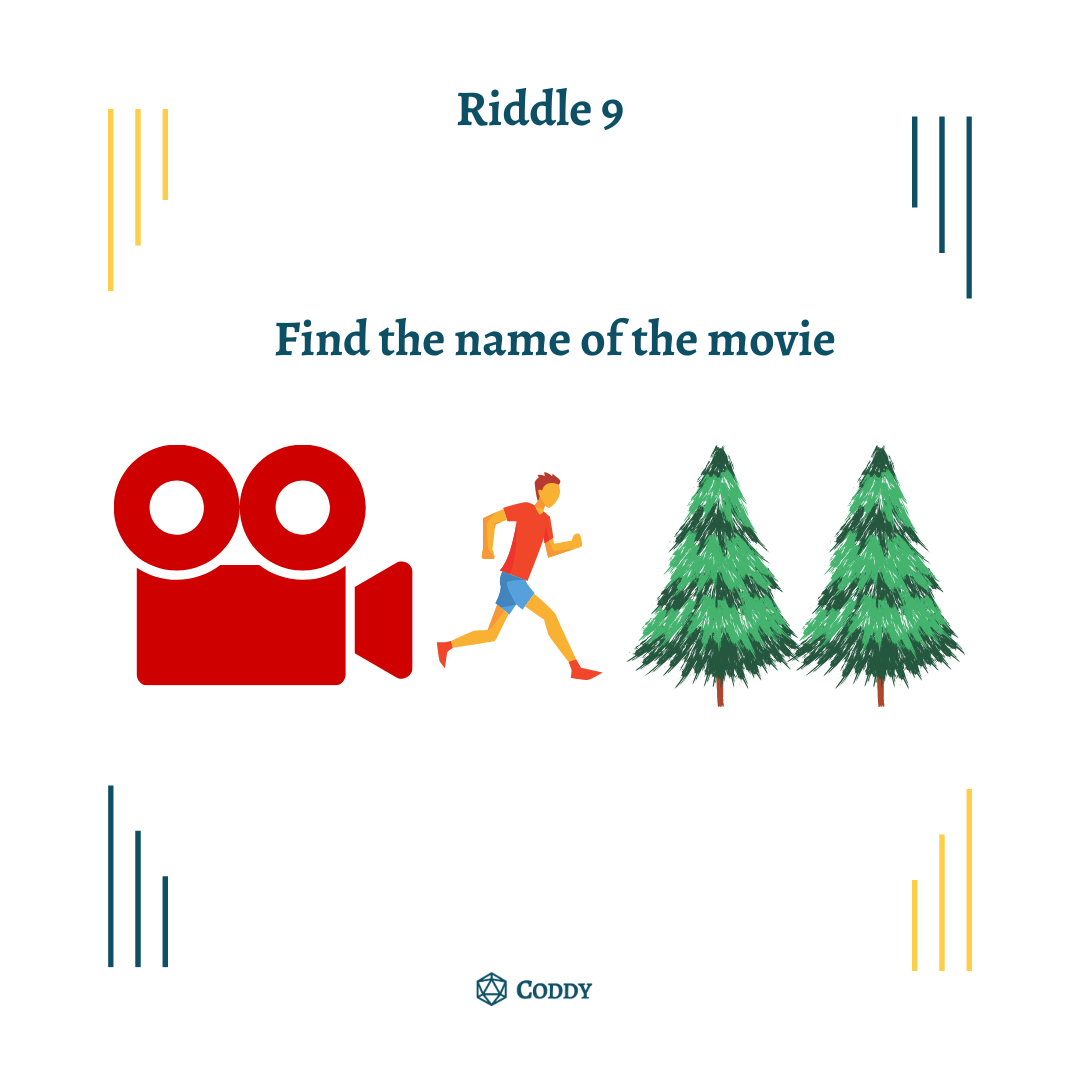 Riddle 9
Answer:
"The Blair Witch Project"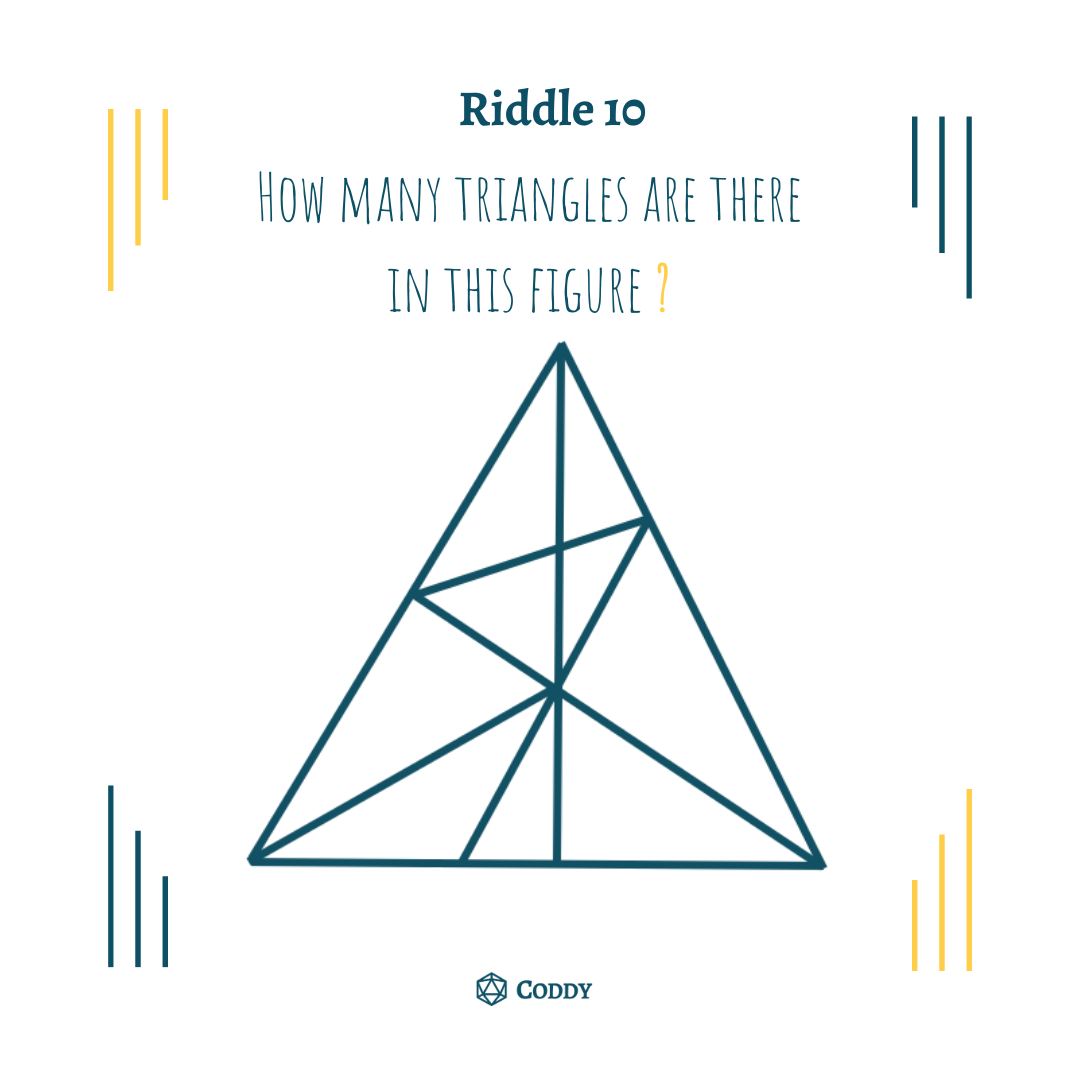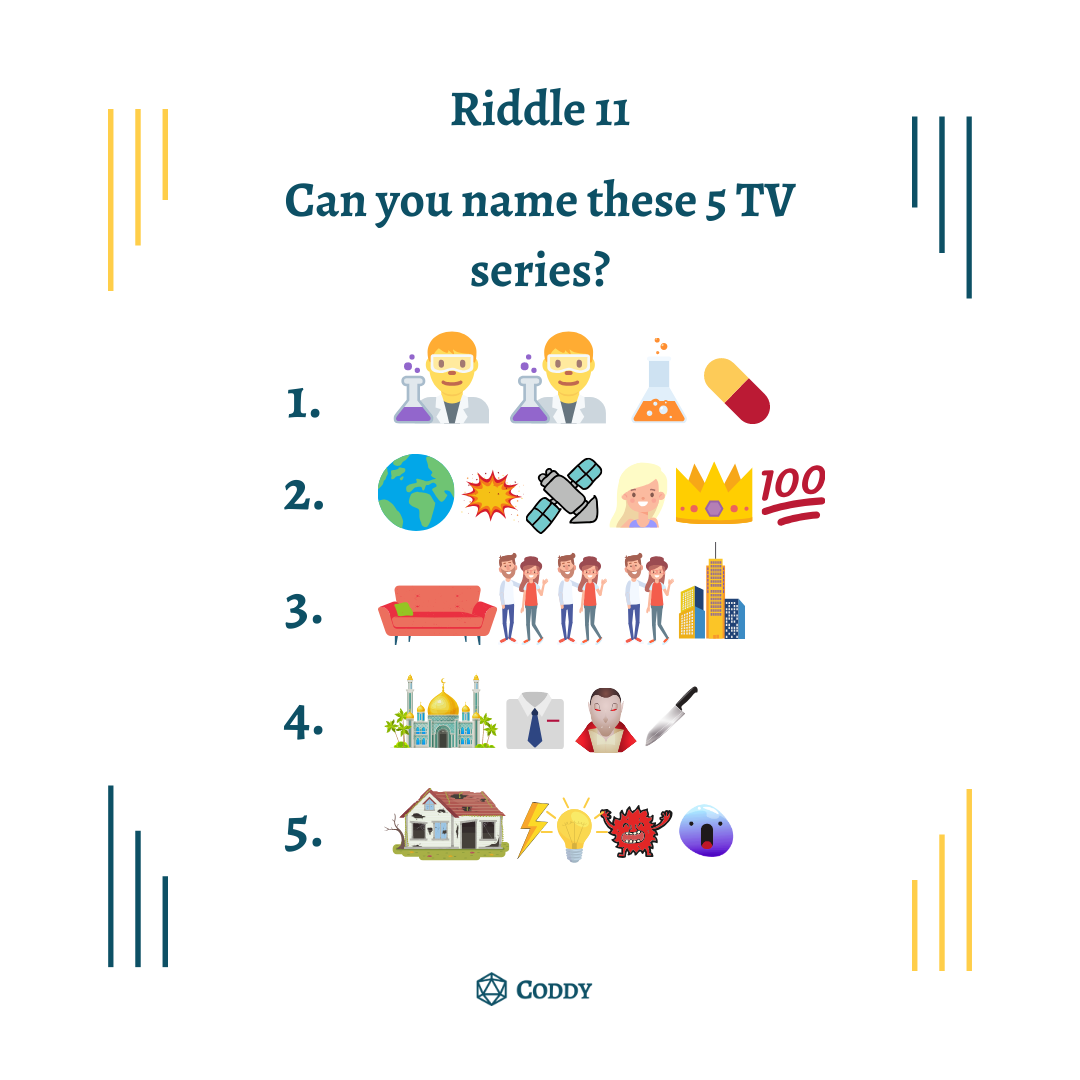 Riddle 11
Answer:
Breaking Bad
The 100
Friends
The protector
Stranger Things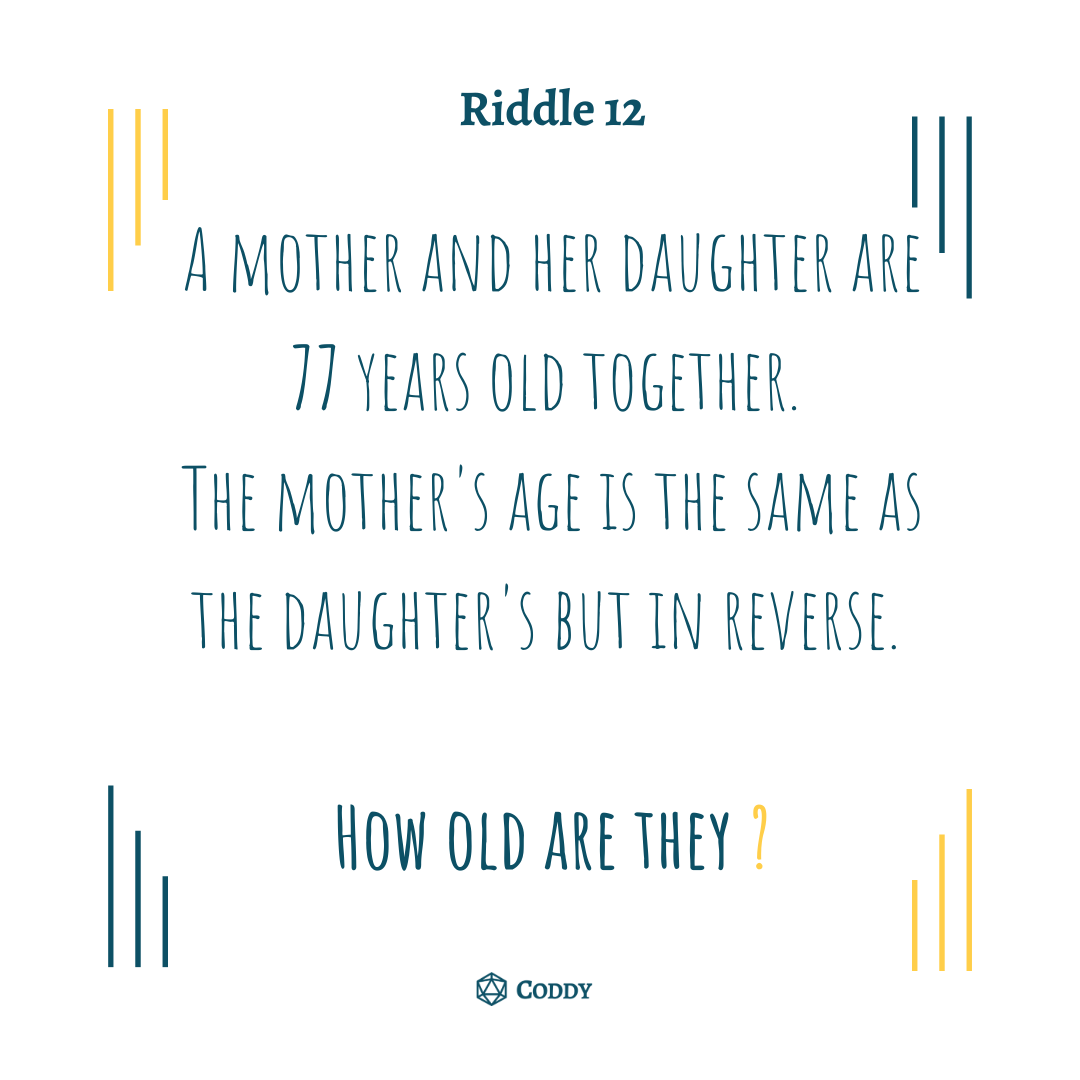 Riddle 12
Answer - 3 most appropriate solutions:
Mother is 61 and the daughter is 16.
Mother is 52 and the daughter is 25.
Mother is 70 and the daughter is 7. (Rare, but possible)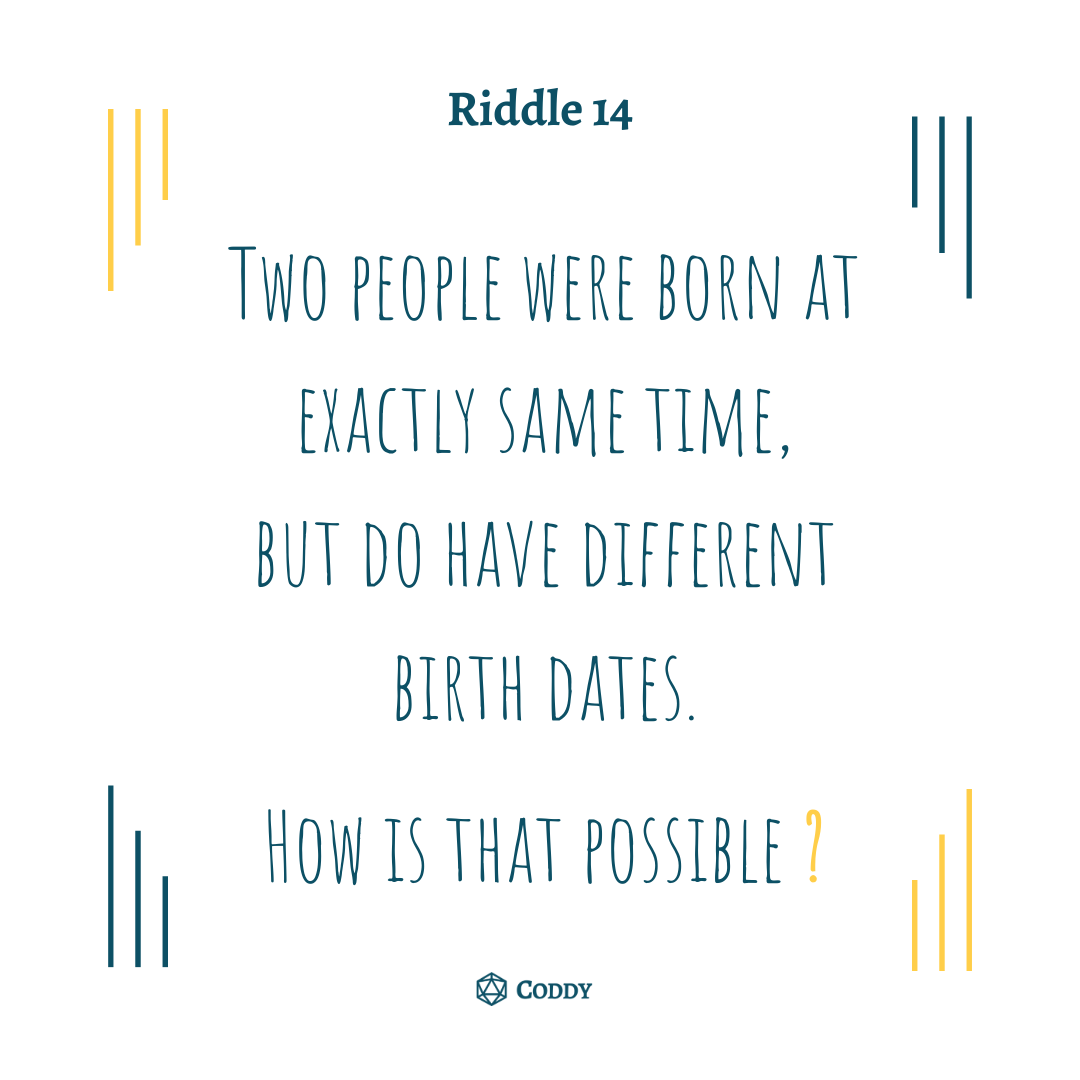 Riddle 14
Answer:
They were born in different places in the world, in different time zones!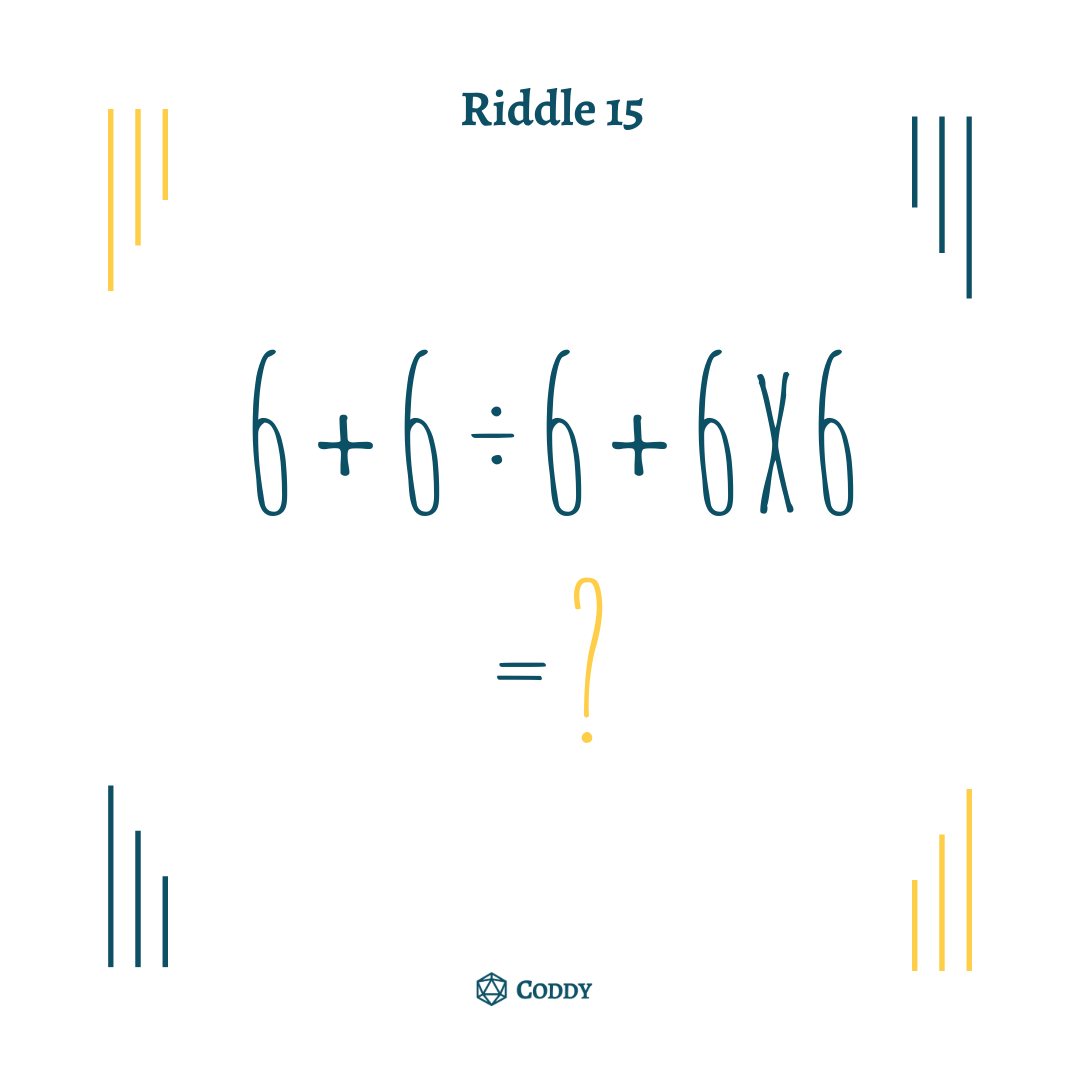 Riddle 15
Answer:
6+(6/6) + (6x6) =
6+ 1 + 36 = 43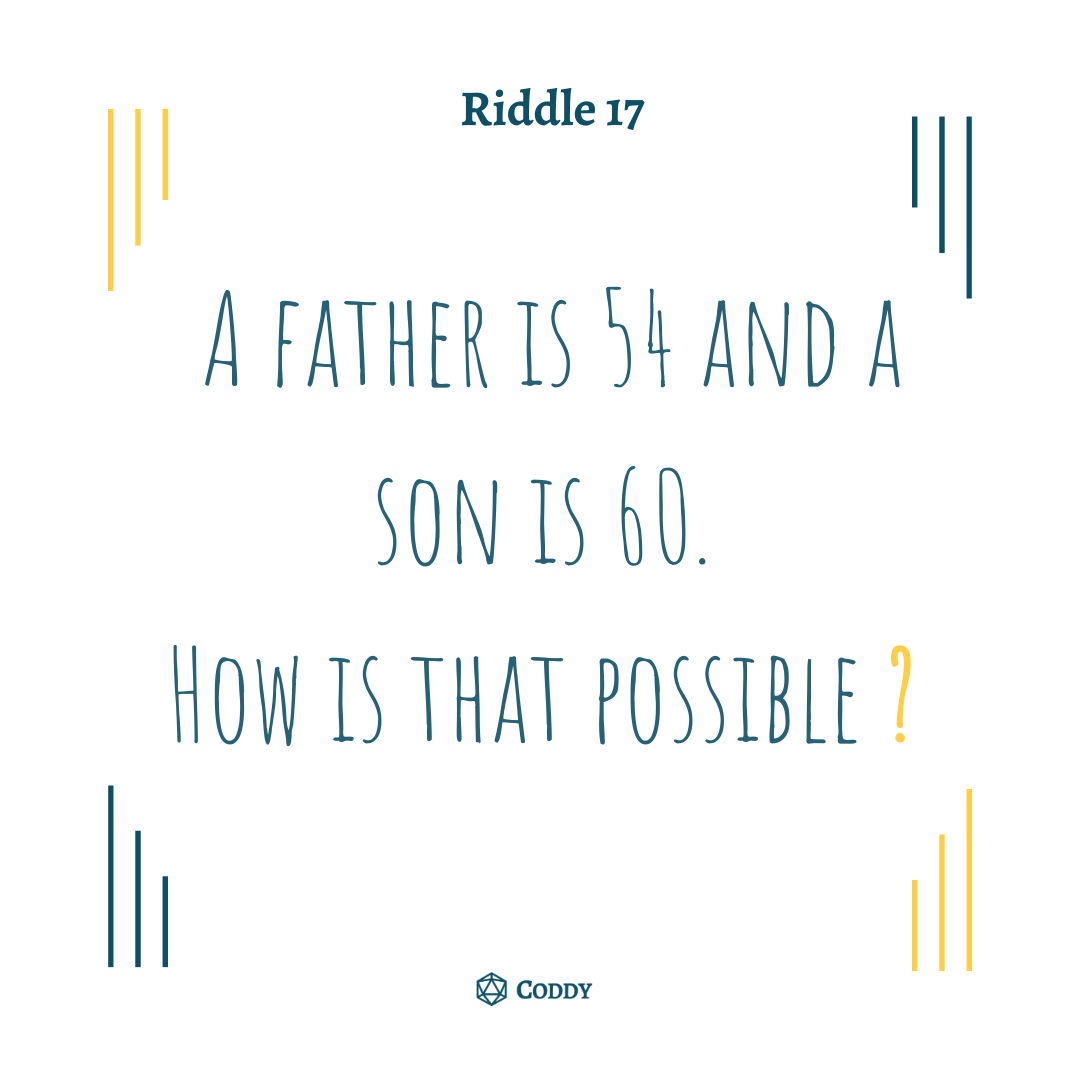 Riddle 17
Answer:
They are not related!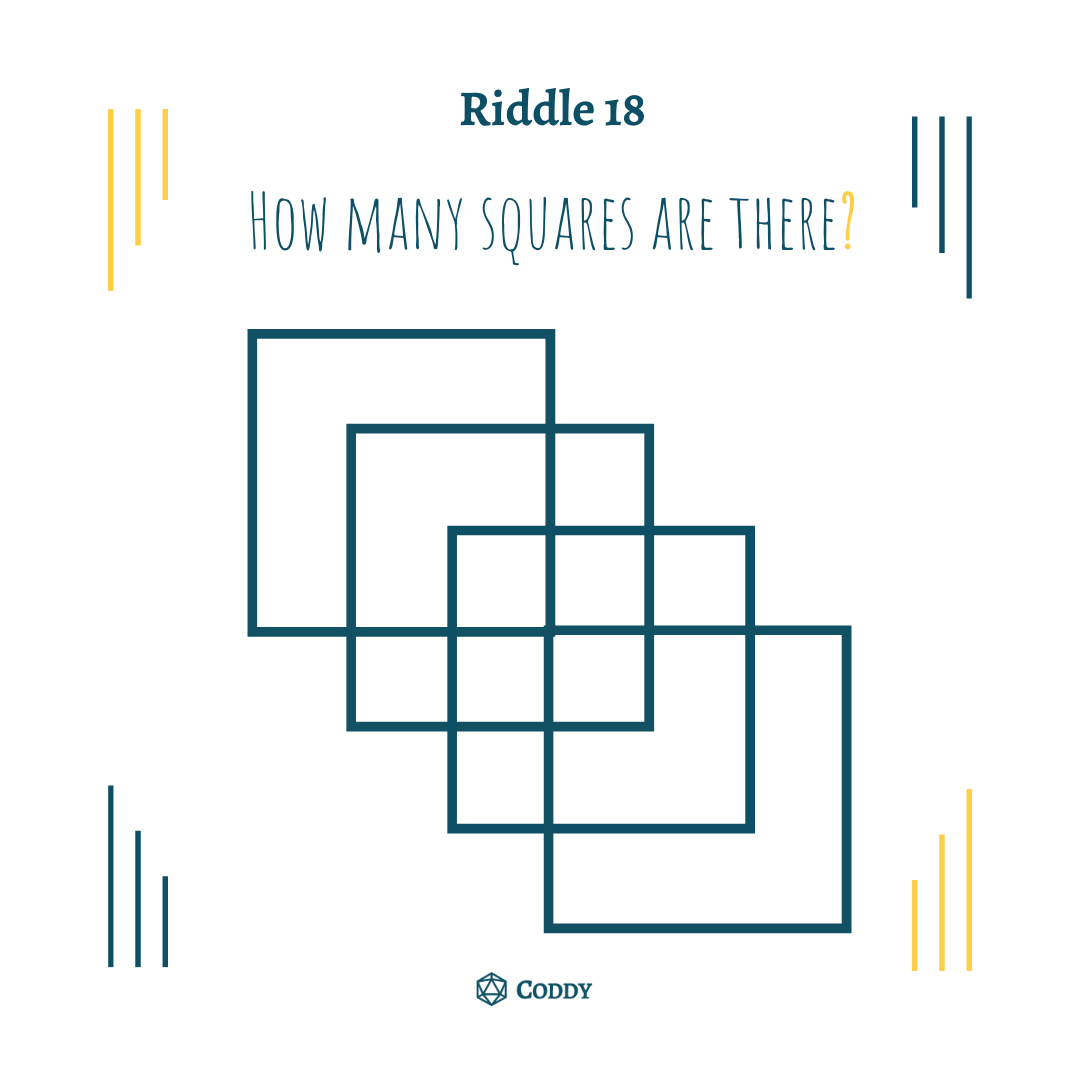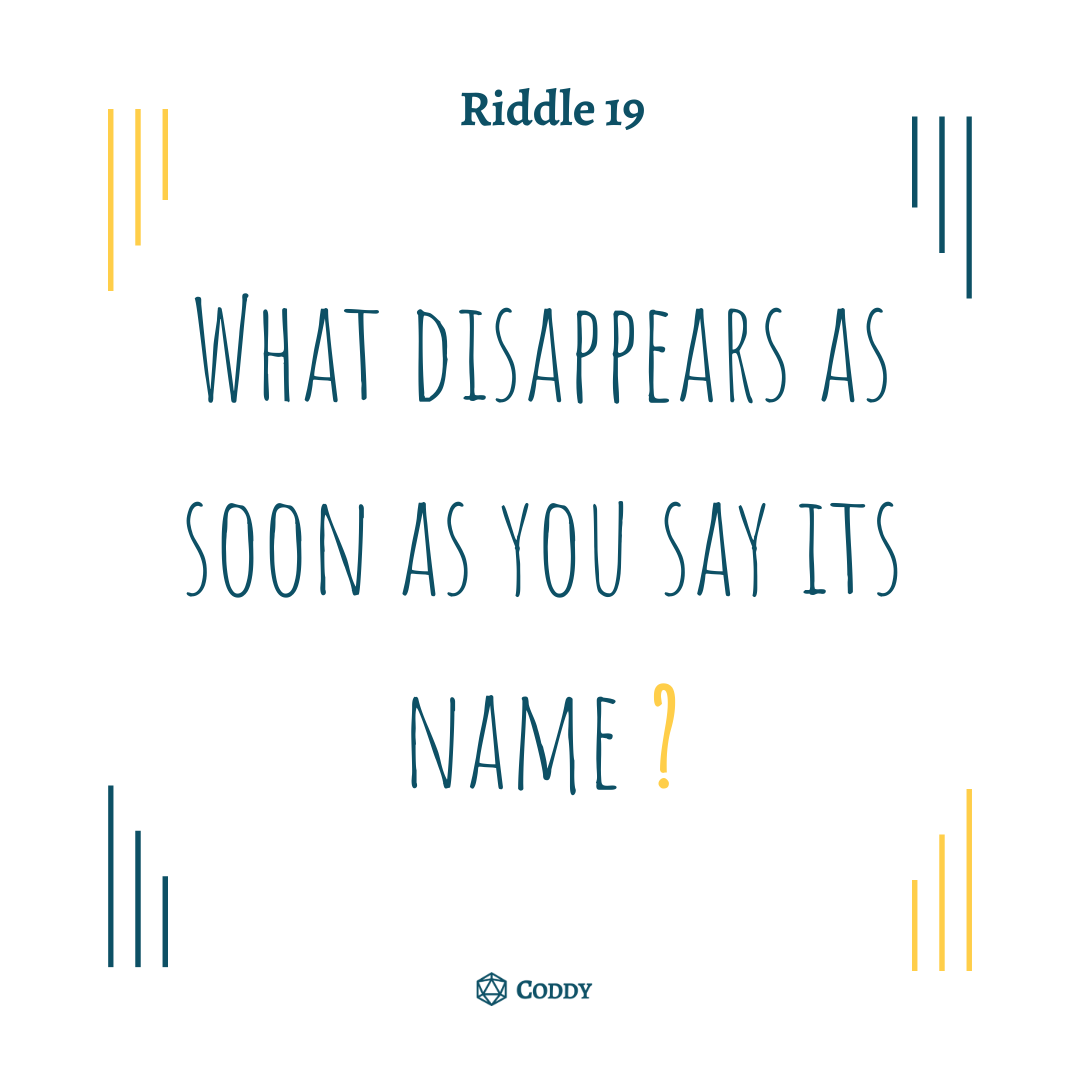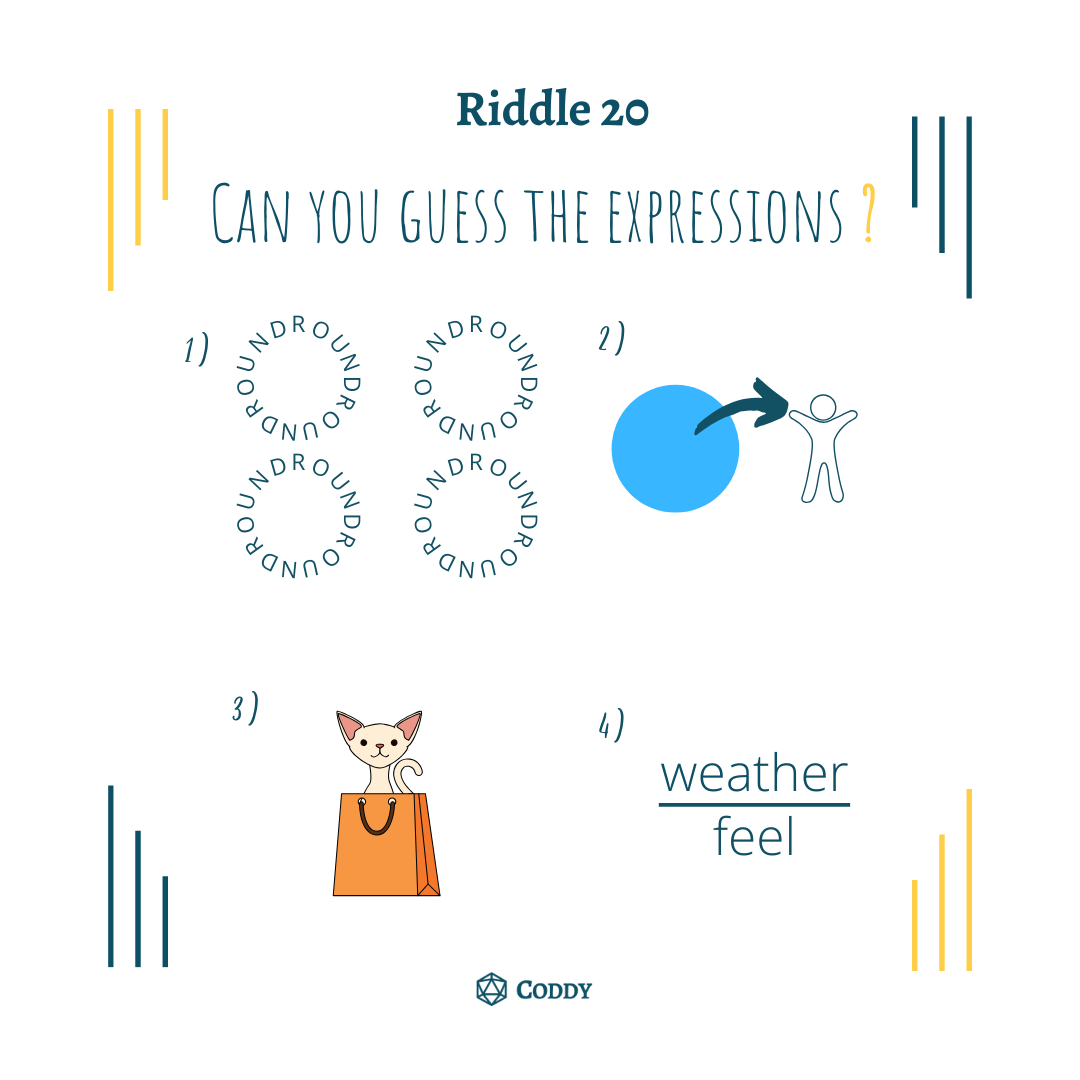 Riddle 20
Answer:
Go round in circles
Out of the blue
Let tge cat out of the bag
Feel under the weather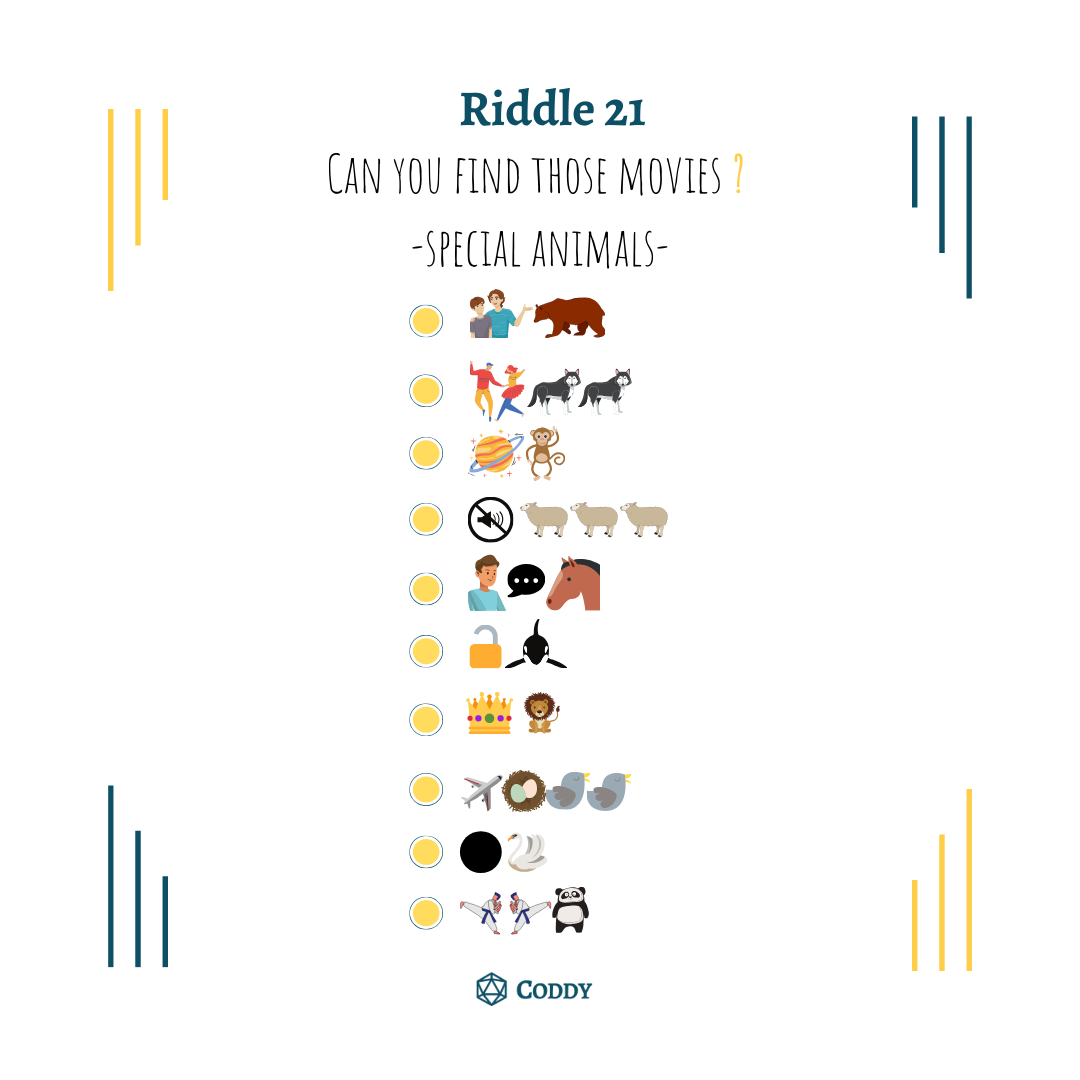 Riddle 21
Answer:
Brother Bear
Dances with Wolves
Planet of the Apes
Silence of the lambs
The Horse Whisperer
Free Willy
Lion King
One Flew Over the Cuckoo's Nest
Black Swan
Kung Fu Panda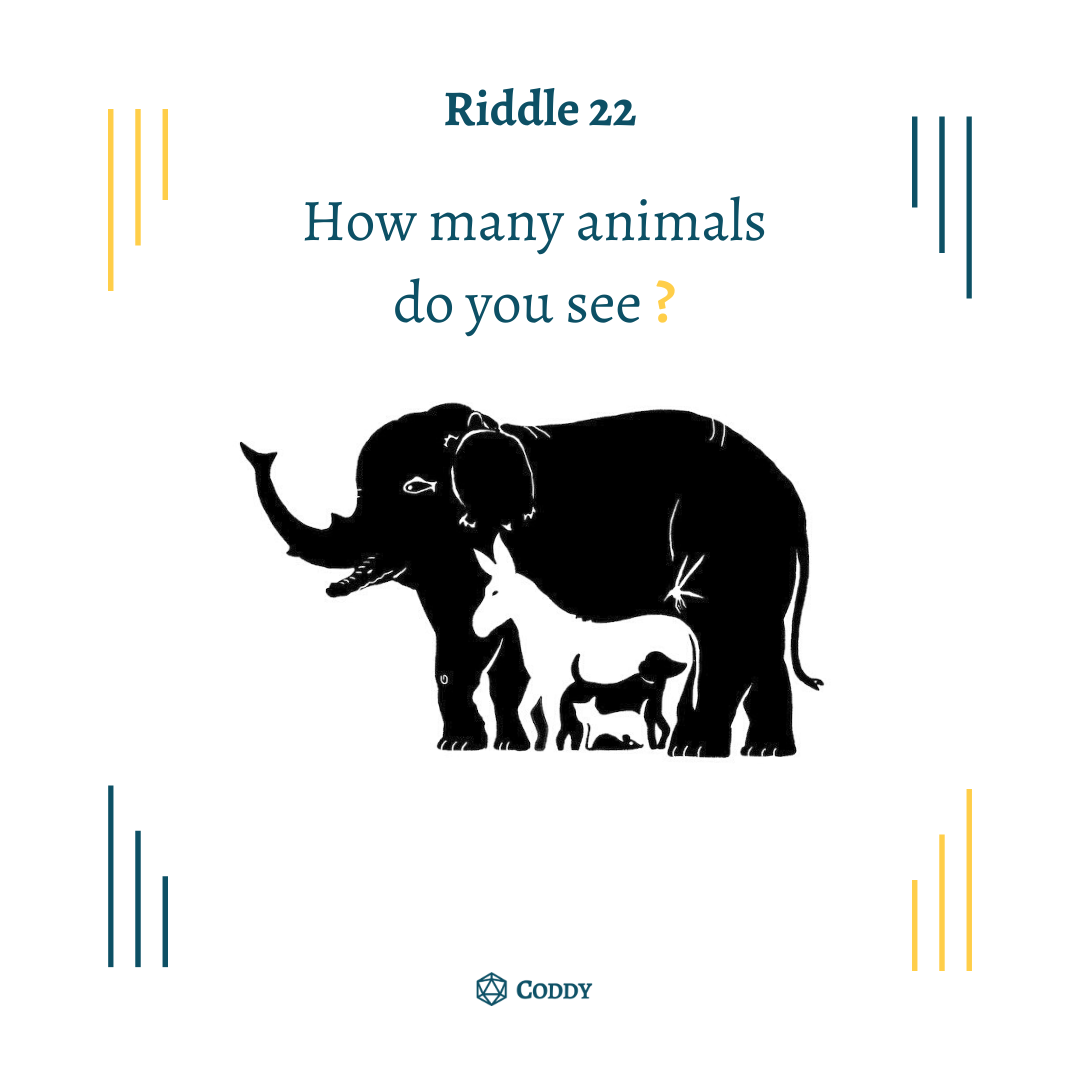 Riddle 22
Answer:
15 !
You had to find:
A dolphin

A crocodile

A hen (chicken)

A prawn

A mouse

A cat

A sword fish

A snake

A dog

A donkey

A mosquito

An elephant

A turtle

A fish

A bird (head)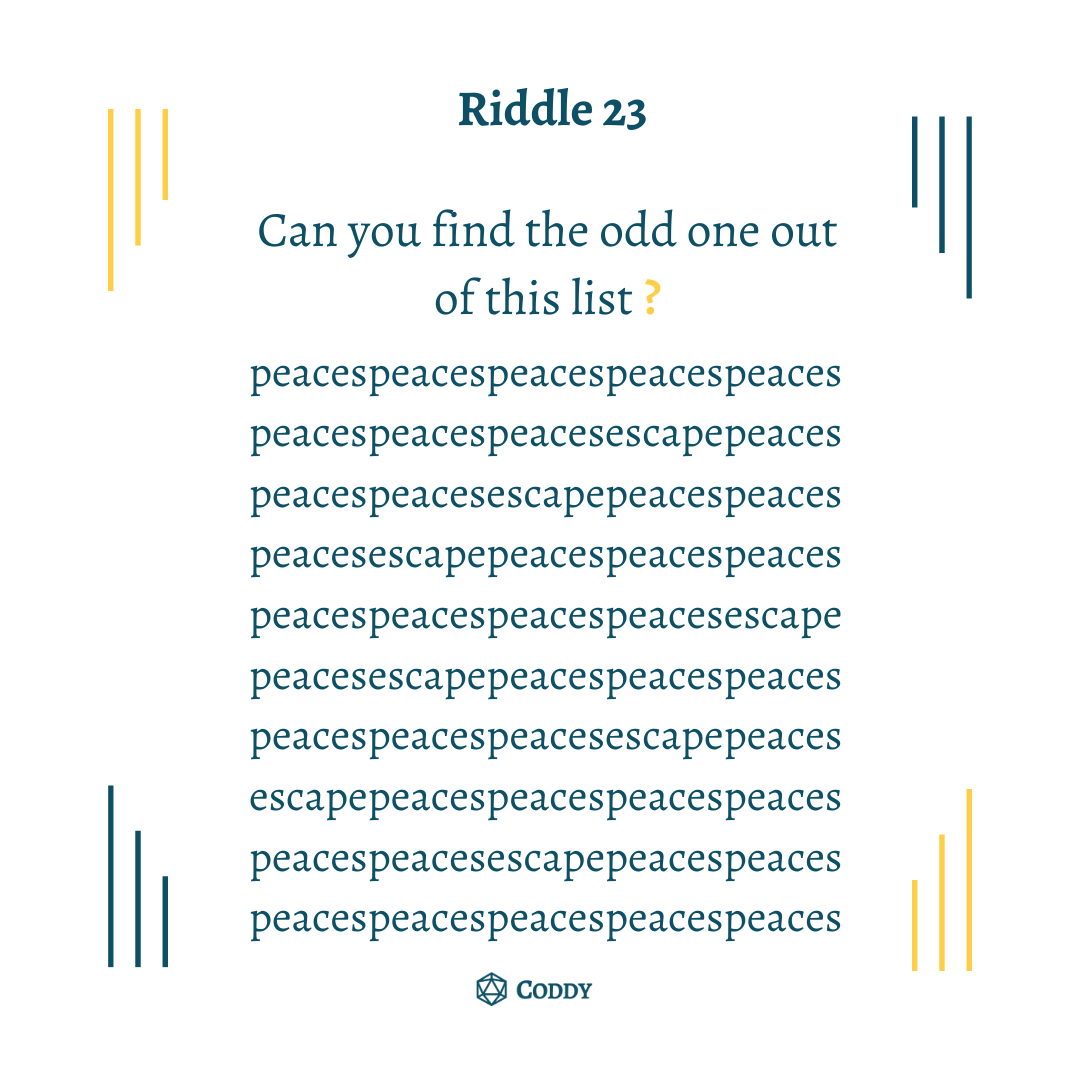 Riddle 23
Answer:
The odd one out of the list was "Escape" and you had to find it
8 times on Instagram and Pinterest
9 times on Twitter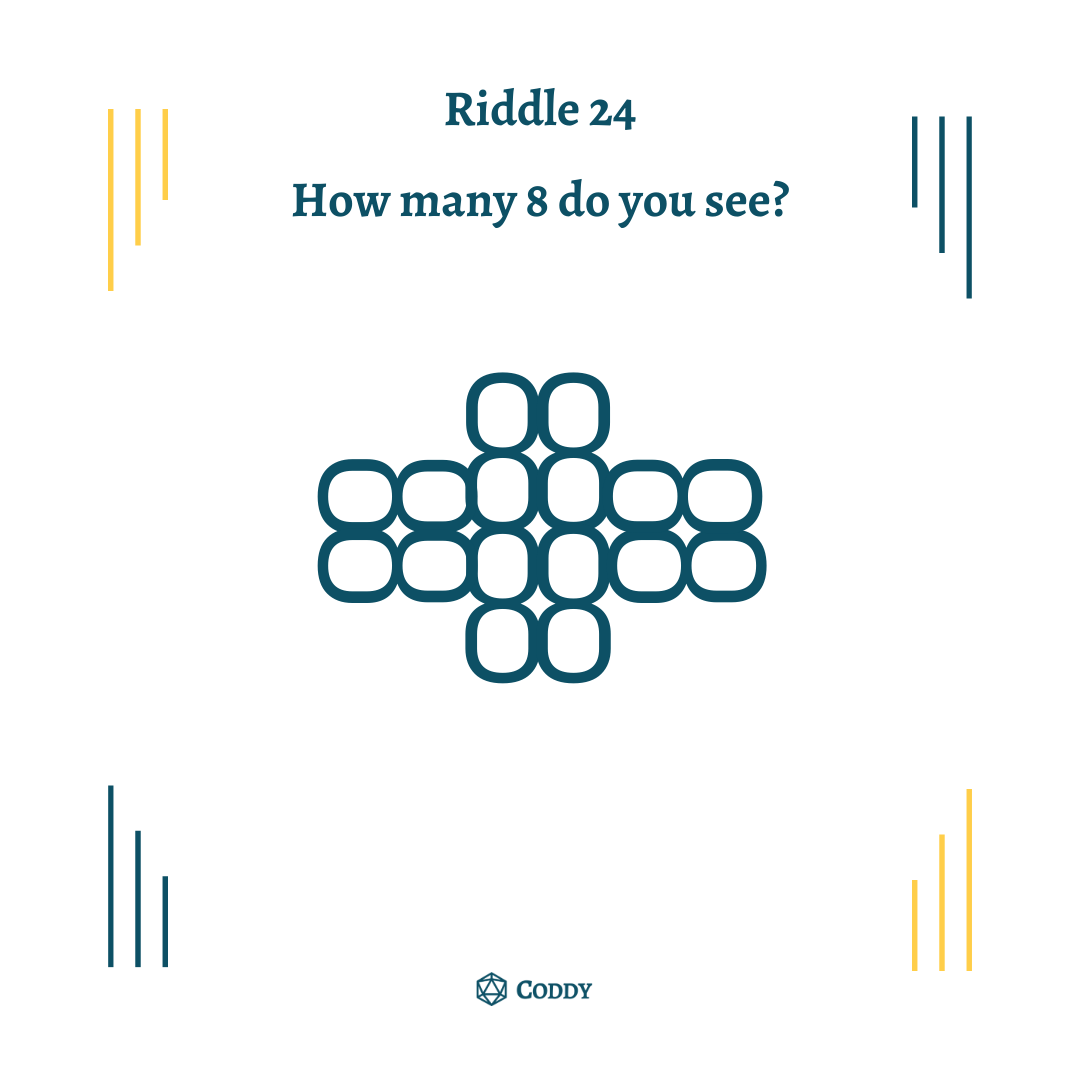 Riddle 24
Answer:
10! Check the form of the 8, there's only ten "8" with the same kind of elongated form.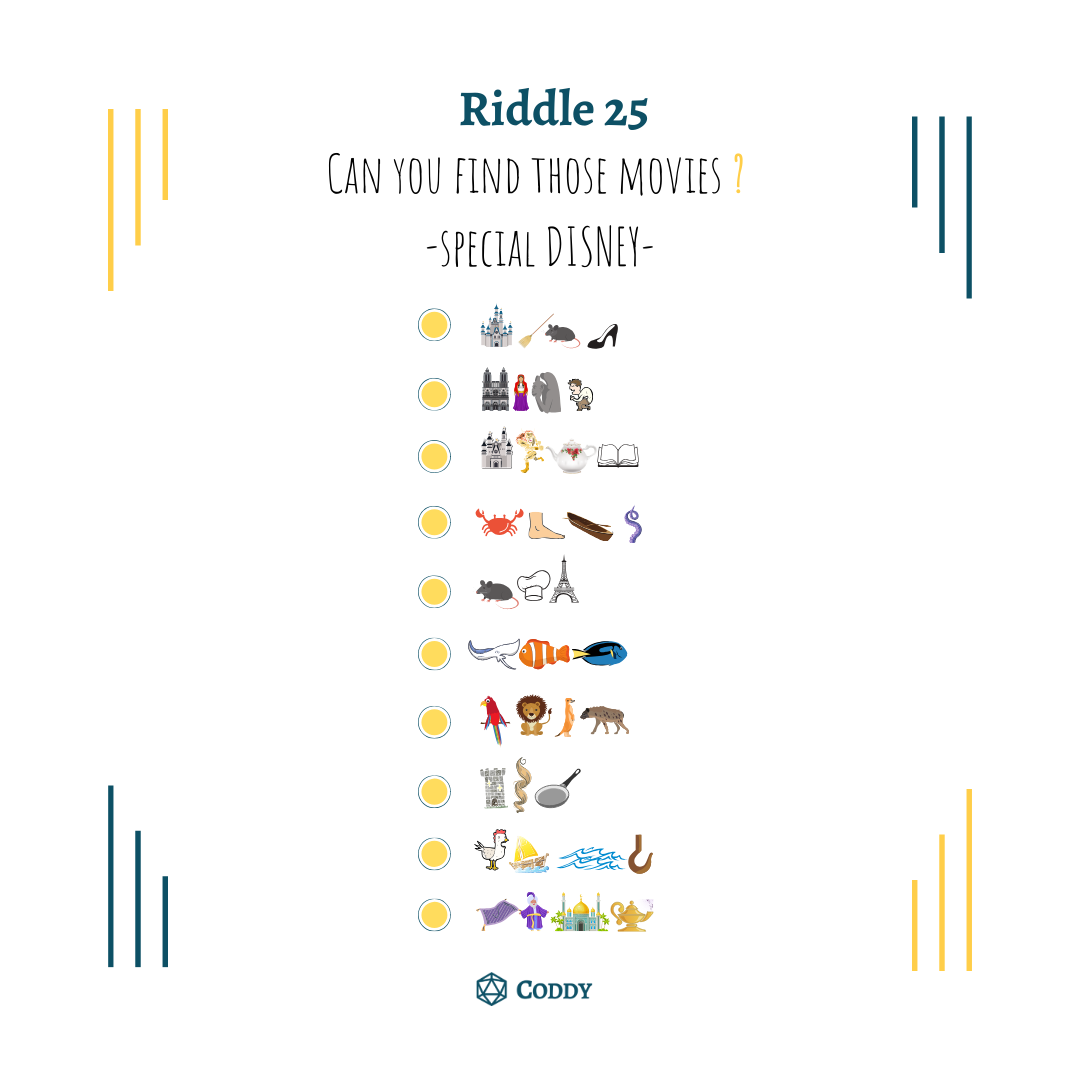 Riddle 25
Answer:
Cinderella

The Hunchback of Notre Dame




Beauty and the Beast

The little mermaid

Ratatouille

Finding Nemo

The Lion King

Tangled
Moana (Vaiana)
Aladdin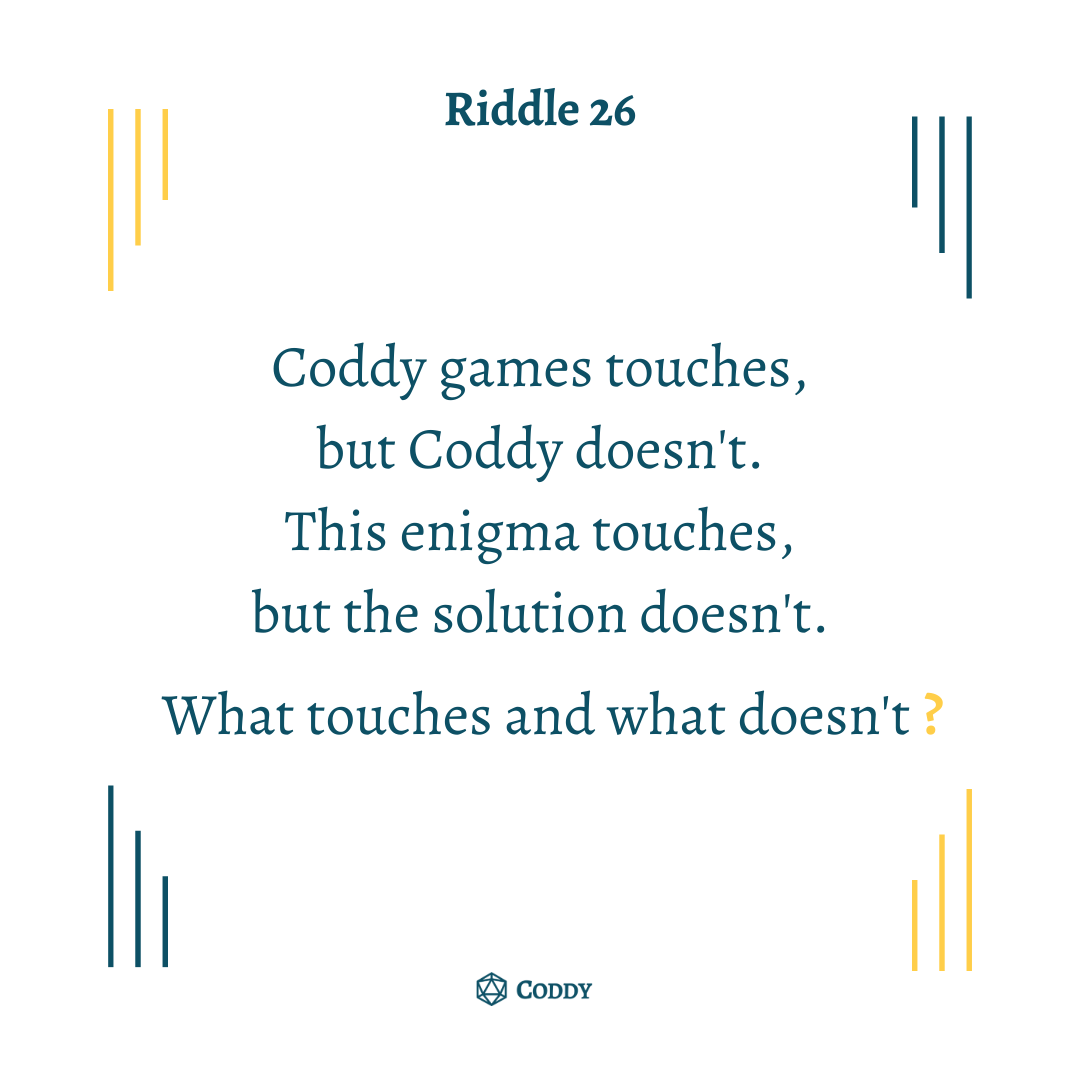 Riddle 26
Answer:
Your lips ! They touch when you pronounce some letters (M for example).
Riddle 27
Answer:
Alphabetical order of the numbers is the logic of this sequence!
Riddle 28
Answer:
Take the roman numerals: you'll get XCIV - I = XCV !
Rise of the Dead
Your city is put in quarantine: the Z-1 virus has spread and many citizens are infected. Resources are scare, hundred of zombies wander the streets. You and your team only have one way out and only 120 minutes to reach it.
Play Rise of the Dead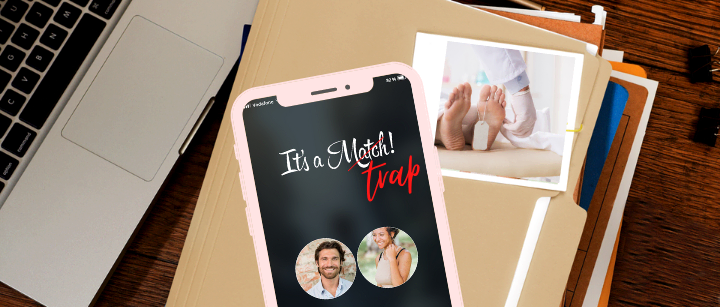 Don't Swipe Right
The CRIME agency, and YOU in particular, are being asked to uncover the truth about the murder of the girl on the train. Accompanied by your partner, lead the investigation to discover everything behind this case.
Play Don't Swipe Right