Where can you find the best chocolate in Bruges?
Bruges is famous for its chocolate shops, and is the ideal place for chocolate lovers. Many well-known chocolatiers have been established here for years, offering a wide selection of delicious pralines and artisan chocolates. Bruges is home to around 60 chocolate factories, making it the chocolate city par excellence. Bruges also offers a unique chocolate experience, with museum visits and demonstrations in the chocolate factories.
The best chocolate makers in Bruges 🍫
🍫 Le Chocolatier Dumon: This traditional chocolatier offers a wide variety of handmade chocolates made from the finest raw materials. You'll find sweets, figurines and bars. Address: Eiermarkt 6, Bruges.

🍫 The Old Chocolate House: As well as being a chocolate shop, this is also a tea room where you can enjoy their delicious hot chocolate. You can choose the type of chocolate for your drink. Address: Mariastraat 1c, Bruges.

🍫 The Chocolate Line: This chocolatier offers original creations, such as chocolate lipstick and red chocolate lips. Their chocolate pieces are also surprising, such as the bacon-infused Miss Piggy. Address: Simon Stevinplein 19, Bruges.

🍫 The Pralinette chocolate factory is a true chocolate paradise. Talented chocolatier Fangio De Baets and his team create refined and tasty chocolate products. The house speciality is hand-rolled truffles coated in real Belgian chocolate. Address: Wollestraat 31b, Bruges.

🍫 Chocolaterie Sukerbuyc is the oldest artisan chocolate factory in Bruges, making chocolate specialities since the 1970s. The chocolate factory offers fresh cream pralines and butter ganaches, made according to ancestral family recipes. Address: Katelijnestraat 5, Bruges.

🍫 Chocolaterie Depla, founded in 1958, is a favourite among Bruges residents and tourists alike. Managed by Pol Depla, the company offers innovative artisan chocolate creations. Address: Mariastraat 20, Bruges.

🍫 Chocolaterie Guillaume was born of the passion and love of Guy Bastenier and Linda Willems, who met in a chocolate shop in the 1960s. Today, the couple offer a wide range of delicious pralines, truffles, tablettes and caraques. Address: Grasdreef 19, Bruges.

🍫 The Spegelaere chocolate factory is famous for its bunches of chocolate grapes, filled with marzipan or praline, which are a popular choice at festivities in Bruges. Chocolate Brugse Kasseien, a reference to the emblematic cobblestones of Bruges' streets, are also very popular with chocolate lovers. Address: Ezelstraat 94, Bruges.

🍫 Chocolatier Roose is famous for its generously garnished artisan chocolate bars. As well as chocolate bars, they also offer portions of homemade nougat. Address: Steenstraat 47, Bruges.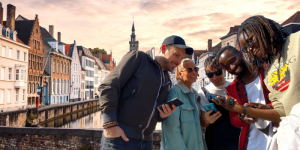 Discover Bruges by playing 🧩
Have you heard of treasure hunts and life-size Escape Games in the centre of Bruges, played on your smartphone? Different game scenarios are available and will take you to different parts of the city to help you (re)discover it in a different way. Guided by your smartphone, you and your team will wander the streets of the city in search of clues and answers to riddles. It's a great way to visit the city while having fun, and to tour the chocolate factories while you play!