For children to live an exciting adventure
We develop games for children from 8 to 12 years old, such as Escape Game, treasure hunts to make them travel in different universes that they enjoy. Our games are made up of riddles and challenges that will appeal to their thinking and imagination.
An ideal activity to escape for an afternoon with the family, with friends for a birthday party for example, but also alone! Our games are played using a mobile application: it's intuitive and very easy to use, children can do it on their own!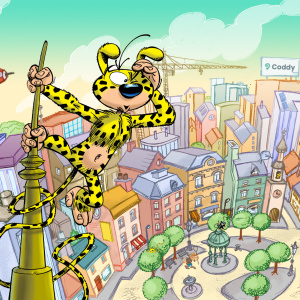 Play "Saving Marsupilami!" : our urban adventure for kids ☀️
The Marsupilami family has been captured by the hunter Bring M. Backalive! 😱 We need you to help him find Bibi, Bobo, Bibu and their mom safe and sound!
🦹‍♂️ Become a hero: take on all the challenges and solve the riddles to save the Marsupilami family!
Some characters will be your allies in this quest, but beware, some enemies will put obstacles in front of you. Are you ready to overcome them all? 💪
Embark your team in this new adventure that combines a treasure hunt and a comic book. 🔍📙

Explore the city in a different way with your family and, together, save the Marsupilami! 🗺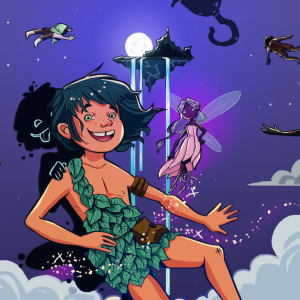 Play Peter Pan: our urban escape game for kids🧚🏼
Live a magical adventure helping out Peter Pan 🧚🏼 Can you find the Lost Kids and bring them safely back to Neverland?!​ ✨
Ever wondered if your dreams are really just dreams, or if there is something more going on?​🤫
What if you could live a magical adventure helping out the one and only Peter Pan? ​🤩 Well, today you'll get the answer to that question.​
Battle against Smee and Hook, chase Peter Pan's shadow and fly over the city with the help of the wonderful Tinkerbell!​ 🧚🏼
Can you find the Lost Kids and bring them safely back to Neverland?!​ ✨
Play Kids Explore: an urban family adventure 👧
The "Kids Explore" city adventures are exploration games in which your kids will discover the tourist spots of the city but also hidden corners. During your family adventure, you and your kids may learn about the monuments and facades of the city that you meet along the way. All the puzzles in this game will require you to carefully observe your surroundings in order to find the clues or answers! After our "Kids Explore" urban adventures, your kids will never see their city in the same way again!
The benefits of an Escape Game for children
Playing to develop one's imagination
Playing an Escape Game allows children to immerse themselves in a world they have everything to build. Pirates, fantastic creatures, private detectives, superheroes: they will put themselves in the shoes of all the characters in our games to succeed in their mission.
Thought-provoking puzzles
Working hard to find the solution to a puzzle, agreeing to ask for help and working as a team to find the solution: this will develop their pride and self-confidence as well as their team spirit.
Play as a source of learning
Learning through play is the best way to develop their memory and intelligence without this appearing as a constraint. Some games will teach them things about a world, people, creatures or how to conduct an investigation, for example.
Patience and thinking
Our children are living at a much higher rate than we, as parents, have been able to do. As a result, they find it difficult to stay focused. Letting them reflect on a problem in a universe they are beating restores these moments of concentration.
How to start your children's escape game
To start, choose the theme you like best on our website and buy a ticket online. You will then receive an order confirmation by e-mail or SMS. On your order, you will find a code: keep it safe.
Download the Coddy app from your App Store.
Click on 'Enter my code' and enter the code you received.
You will be automatically redirected to the right game.
Go to the meeting point if it's an urban adventure.
Start your adventure with the first mission.
For some games, you will need to download a clue kit or additional documents: feel free to print them out for greater immersion, but it is not mandatory.
Please note that our games are often divided into several levels to allow children to play according to their abilities.
FAQ
Coddy are urban adventures that promise you an original experience, during which you will (re)discover a city while playing!
We offer urban Escape Games, treasure hunts in no less than 9 countries!
You will be guided through the city by your smartphone and our mobile app, and you will have to solve riddles and complete various missions/challenges within a given timeframe (or not, it's up to you!).
These adventures are played in teams, from 2 to 6 players. Several themes and scenarios are available, including games specifically created for kids (8 to 12 years old).
Download our application and test our free "The Globe Trotter" game to better understand the principle!
It's very simple Karen!
Browse our website, and select the game and the city of your choice. Once you have paid for your urban adventure, you will receive a game code by email for your team.
Then download our Coddy mobile app, share the code with your teammates and enter it into the app.
Then let the app guide you: it will tell you the starting point, the rules of the game, etc.
📌 By the way, you have 3 years after your purchase to go on the adventure! You determine the date and time of your game.
Our games last on average between 1.5 and 3 hours.
For some games, you can decide to time your game or to do your adventure at ease.
The actual time of your game depends on your speed and ability to solve our puzzles 😉
You have 3 years after your purchase to go on an adventure!
You determine the date and time of your game.
If you want to start your game at 8am, 4pm or midnight, it's up to you.
That depends, Karen, do you have the IQ of a mussel or Einstein? 🤔
In our games, you will find sometimes complicated puzzles and sometimes easier ones. In any case, clues will always be present to help you!
To play, we recommend that you have :
At least one working smartphone per team;

A full battery;

Possibly, even an external battery;

Mobile data (don't worry, it doesn't use much);

Bought a game on our website (This could be handy...);

A relatively developed brain;

And a fun (and competent) team!
Not at the moment, but we are working on it!
But you can play other games in the city or go on an adventure in another city!
We'll roll out the red carpet for you and shower you with gold!
Once the game is over, you'll receive an email with your photos of the game!
We also invite you to leave us a note and a comment to share your feelings about the experience!
Then, if you want more, check out our website for more games!
Yes, we are always trying to add new worlds and new challenges to our catalogue of games!
Have you checked your mailbox ( including junk mail) ? It is possible that our mail has slipped into your spam! This will not happen again if you join our newsletter Karen 😉
If you still haven't received the confirmation email with your code, contact us via the chat on our website.
You do what you want, Karen! But beware, time is running out! ⏲️ (In some adventures)
If you can't control your bladder, your appetite or the urge to take 30 selfies, you can always pause the game and resume it later! However, it is important to return to the same location...
For an outing with family, friends, but also with colleagues, for your bachelorette/bachelor party, or for your next school outing!
Contact us for your team building or school outing, we'll organise a perfect event with you: events@coddygames.com
At least 1 charged smartphone per team. For a better immersion, it is advisable to have more than one and to follow the story on your own phone.
You are more than 6 Karen? How crazy!
Several possibilities are available to you:
Buy several teams for a better game experience.

Decide to play all together in one team. This means that your experience may be impacted.
Example:
For 8 players, we recommend creating 2 teams of 4 people. But it is possible to play all together as well. In this case, two people will not have access to the game in the application, because we activate the game code on 6 smartphones only per team.
The principle of urban games is that they are played outdoors, in the city, dear Karen. 😌 But wait! If you're interested in Escape Games at home, we've got something for you:
Try our free games: download our app and try your luck with our free games. It's a great way to get a taste of what's to come when you play in your own town.

Opt for at-home Escape Games by Escape Kit. Really cool people who create quality printable Escape Games! ✨ Different themes, for all ages! Choose amongst Harry Potter, Arsène Lupin, Alice in Wonderland or even The Little Prince, you'll be spoilt for choice 😉