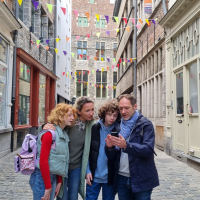 Urban Escape Games to discover the city in a new way?
It's a new way to do an escape game: in the city of your choice and, via your smartphone, follow a path full of puzzles and challenges!
All you need is the Coddy mobile app on your smartphone and a team of sleuths to embark on this urban adventure 🕵🏼
Have a great time with your family or friends to (re)discover your environment and the city from a different angle, you'll be amazed at what you can discover thanks to an urban escape game!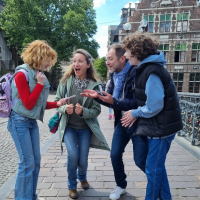 The urban escape game: a family escape game
Coddy's urban adventures are an alternative to boring guided tours and a great excuse to spend some quality time with the family! Take your smartphone to the city of your choice and ask your teammates to solve the various puzzles. The kids will be delighted to explore the city this way!
Thanks to the urban escape game, they can have fun while playing tourist. Observe the smallest details of the city, have fun with well-crafted puzzles and work as a team, as a family!
As our urban adventures are open to all ages, you can invite your children to be part of your team and share the fun. It's a great way to bring the whole family together around an entertaining and rewarding outdoor activity.
📌 Good to know: our urban treasure hunts are recommended for children from 12 years old, to allow a better integration and participation within the team. Younger children are however welcome and will be able to help the older ones, the parents, during the observation riddles.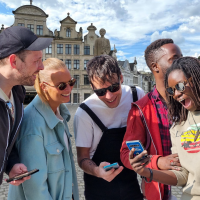 Urban Escape Game: a fun and original visit
For families, but not only! You can explore the city thanks to our urban adventures with your friends, your colleagues, your partner, your dog, your hamster, your mother-in-law: take whoever you want with you!
Explore the streets of the city with your favourite teammates, discover the must-see places as well as the hidden corners, in a fun and original way 🤩
About our games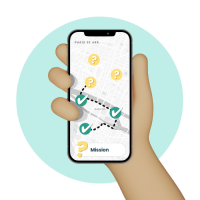 Play in the city with your smartphone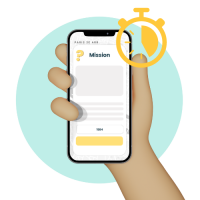 Finish your adventure in time!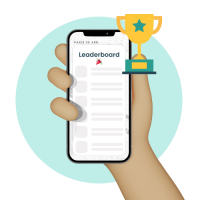 Be the first in the ranking!
📱 An Escape Game played in the city with your smartphone
The urban escape game is a completely different experience: you are no longer locked in a room for 60 minutes, but the city becomes your playground!
It's an adventure played with your smartphone and the Coddy mobile application, where you'll find all the instructions for your game.
Immerse yourself in an exclusive scenario and follow the map on the mobile app to navigate and move around the city. Then, as a team, solve all the puzzles and complete the challenges that await you in the four corners of the city centre. Take a good look at your surroundings and (re)discover the city in a different way!
⏱ Finish your adventure within the time limit!
Just like in a classic escape game, a timer tells you how much time you have to complete your game. Find the answers to the riddles quickly to progress through the story!
📌 Good to know: all our adventures are not timed to allow adventurers who would like to take their time to do the game at their own pace.
🏆 Rank yourself first in the leaderboard!
Each answer can earn - or lose - you points during the game. Try to earn as many points as possible to get on the leaderboard! You can find the leaderboard on the page of your chosen game. So challenge your team and try to win the first place! 🥇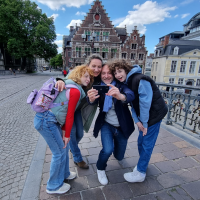 How to start the adventure?
👉🏼 Choose the scenario you like most on our website, as well as the city you would like to play in. Then place your order.
📲 Download the Coddy app from your favourite app store.
📧 You will receive your game code by email: you have to enter it directly in the mobile application. You will be able to use it on 2 to 6 smartphones, allowing your team members to follow the game simultaneously.
📍 With your team, meet at the starting point indicated in the email or on the app.
🕵🏼 All enter the code in the app, choose your team leader (everyone can become one in turn, at any time during the game)
🤩 Start your adventure and have fun!
FAQ
Coddy offers treasure hunts, geolocalized Urban Escape Games that, with the help of your smartphone, will take you on a tour of a city while you play.
Routes with puzzles related either to the scenario itself or to the city. For the latter, you will have to look all around you to answer the questions. A way to (re)discover a city while playing and having fun!
With the help of the mobile application, in teams of up to 6 players, solve all kinds of puzzles and complete several missions in a given time. Choose the game of your choice, a city and arrange with your team for the date that suits you. Download the application to your smartphones (at least 1 smartphone per team) and get together to start the adventure!
Coddy also offers Escape Games to be played at home. These Escape Games for adults but also for children can be played with the mobile application.
After buying your ticket, you'll receive a code that you will have to enter into the Coddy app, previously downloaded. This code will give you access to the game you have chosen, only once, on the day of your choice. That day, go to the location of the first mission, follow the instructions on the app and let the game begin !
Depending on the theme (if the game is timed) and on your team's speed and ability to solve the riddles, a game can vary between 2 hours and 4 hours. More details are always specified on the game's page.


Whenever you want, any day at any time!
However, we sometimes will make 'events', for those games, you can use it at any time of the day, on the day of the event only!
This differs for each individual! In each game you will find easier and more complicated puzzles to allow everyone to play without going too fast or being completely blocked.
To play a game on Coddy, you will need
at least one smartphone with a full battery (1 per team of 6 players minimum, unless otherwise stated)
an internet connection
the Coddy app
your team code (booked online and received by mail)

And most importantly: choose smart enough teammates so you can aim for a competitive score !
We advise you to take an external battery with you if your phone discharges easily.
Once it is purchased, you can only play it once, on the date of your choice. Once played, the game can no longer be used. But don't worry, if you liked it, others are available or coming soon in your city (and you can also play the same game in different cities, it will always be a different experience ;-) ).
We'll roll out the red carpet for you and cover you with gold !

(Once your team is over, your score will be posted on our website - if it's worth it - and we invite you to team up again and start another game if you liked it!)
At this stage, you can't create your own private games on our platform.
Yet.
However, if you feel particularly talented and inspired, drop us an email at
[email protected]
and we'll be happy to discuss creating games together.
We're also always eager to discuss adapting our existing games to fit your team building wishes !
Obviously! Our team is working hard to be able to offer other games soon ... Feel free to follow us on social networks to be kept informed :)
Have you checked your mailbox thoroughly (including the junk folder) ? If you still haven't received this confirmation email with your code, contact us at the following email address :
[email protected]
You can do whatever you want, Karen ! But be careful that for some games, time is running out ! Taking a beer break or a selfie session with your teammates could cost you your victory.
There is now a pause button to allow you to drink during your urban adventure or go to the toilet. You can then resume the game whenever you want.
Coddy is THE go-to activity for a perfect outdoor afternoon with friends, family trip or why not as a team building?
For team building events, don't hesitate to contact us at the following email address:
[email protected]
.
You will need at least one smartphone per team. Each player can obviously use his own smartphone, but it's not mandatory (unless stated otherwise in the game's instructions).

You will have to choose a team captain who'll be in charge of submitting the team's answers. The team captain role can be switched to someone else at any given time during the game.