24 hours in Maastricht
Maastricht is a charming city in the Netherlands, rich in history and culture. If you only have a day to spend in Maastricht, here are some ideas to make the most of your time there:
Visit the Vrijthof: This is Maastricht's main square, lined with restaurants and cafes, as well as the impressive St. Servais Basilica. Take time to walk around the area and enjoy the lively atmosphere.

Discover the Bonnefanten Museum: a museum of contemporary art located in a modern building overlooking the Meuse. It houses a varied collection of artworks, sculptures and photographs.

Explore the St. Peter's Caves: Maastricht is known for its many caves, which have been dug into St. Peter's Hill. You can take a guided tour to explore these fascinating caves and learn more about their history.

Shopping: Maastricht is known for its high-quality shops, especially in the Wyck shopping district. Stroll through the cobbled streets and discover fashion boutiques, home decoration shops and souvenir shops.

Admire the Sint-Servais Bridge: an iconic bridge over the Meuse that is the symbol of the city. Take time to walk across it and enjoy the magnificent views of the river and the city.

Visit the city market: the Maastricht market takes place every Wednesday and Friday in the market square. You can find local products, flowers and clothes, as well as regional culinary specialities.

Discover the historic part of the city: Maastricht's old town is full of cobbled streets, historic buildings and charming squares from the medieval and Renaissance periods.

Enjoy the local cuisine: Maastricht is famous for its culinary specialities, including meatballs, waffles and Maastricht cheese.
In one day you can easily discover Maastricht's highlights by playing: with Coddy's urban escape game you can collect all these points of interest and visit them in one go.
An urban adventure that combines discovery and riddles and allows you to see the city in a different way, and to have fun while visiting.
Why is Maastricht famous?
Are you wondering what Maastricht is known for? Maybe this information will refresh your memory:
The Maastricht Treaty: this treaty, signed in 1992, established the European Union as we know it today. It also created the single European currency, the euro.

Historical heritage: Maastricht has a rich and fascinating history dating back to Roman times. The city has many historic buildings, including churches, fortifications and bridges.

Caves: Maastricht is known for its caves dug into St. Peter's Hill. These caves have been used for various purposes over the centuries, including shelter during wartime and as a storage place for wine.

Gastronomy: Maastricht is famous for its local cuisine, which includes dishes such as boulets, a minced meat speciality served with chips and applesauce, and Maastricht cheese, a mild soft cheese.

Market: The Maastricht market is a lively market held every Wednesday and Friday on the market square. Local products, clothes and flowers are on sale, as well as regional culinary specialities.

Maastricht is also known for its university: the University of Maastricht (UM), founded in 1976. The UM is an international research university with students from all over the world. It is renowned for its international study programmes, particularly in law, economics and public health. It is also known for its innovative teaching system, based on the problem-based learning method, which encourages students to work in teams to solve complex problems. This unique teaching method has become a reference for many other universities around the world. The presence of the UM has also contributed to making Maastricht a vibrant student city, with a lively student life and a wide variety of bars, cafés and restaurants.
All in all, Maastricht is a city rich in history, culture and gastronomy, with many attractions for visitors.
Where to walk in Maastricht
First of all, you can walk around the historic city centre and admire the beautiful buildings. But be careful, it's crowded! You can start at the Vrijthof square, which is the heart of the city. There are plenty of terraces for a drink, and you can see the beautiful St. John's church.
Afterwards, you can walk through the cobbled streets of the Wyck district, located on the right bank of the Meuse. It is a charming district with nice shops and old houses. You can also cross the Sint-Servais bridge to the left bank of the Meuse, where the Bonnefanten museum is located. If you like contemporary art, this is a museum with an impressive collection of modern and contemporary art. You'll be amazed at what you can see here, and you won't know where to turn.
If you want a little more peace and quiet, you can go to the City Park, located near the city centre. There are nice walks to do, ponds with ducks, and even a small farm with animals. It's perfect for relaxing after a day's work, or recovering from a drunken night out, and you can have a picnic with your mates. You can also see there the statue of D'Artagnan, a musketeer who really existed!
Finally, if you want a more unusual experience, you can take a walk through the caves of Saint-Pierre, located under the hill of the same name. The caves have been used as wine cellars, as shelters during the war, and even as a setting for parties.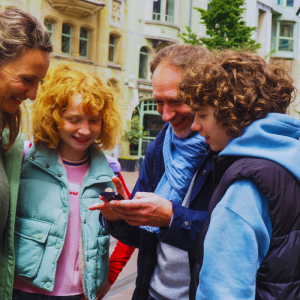 Visit Maastricht on foot
Maastricht is a city that you should definitely visit on foot! There's so much to discover while taking a leisurely stroll. And to do so, we recommend playing Coddy's urban escape games.
Using your smartphone and the Coddy app, you will be guided through the city, past the most important places in Maastricht, but also through some unusual places. All this while solving riddles and challenging yourself and your team! This is a group game, so bring your best friends, colleagues or nephews. Several game scenarios are available in their catalogue, so take a look at them quickly.
What to do in Maastricht on Sunday?
Maastricht is a charming city with plenty to do, even on Sundays! Here are some ideas for a good Sunday in Maastricht:
Take a walk through the historic city centre: Sundays are often quieter, which is perfect for admiring the historic buildings without being jostled by the crowds. You can go to the Vrijthof square, the most famous square in the city, to have a coffee on the terrace and enjoy the peaceful atmosphere.

Play an Urban Escape Game: to visit the city centre while playing, what better way than with an urban escape game! Observe your surroundings and the details of the city to answer the riddles and discover Maastricht as you have never seen it before!

Shopping: yes, almost everything is open on Sundays in Maastricht! If you like shopping, Sundays are the perfect time to stroll through the streets of Maastricht and discover the original shops in the Wyck district. You can also visit the factory outlets in Maasmechelen Village, but it's one hour far from Maastricht by car.

Visit a market: on Sunday mornings you can go to the Markt market, where you can find fresh produce, flowers and clothes. There is also the market at Sint-Maartenspoort, where you can buy handicrafts and organic products.

Relax in a park: if you want to get some fresh air, you can go to the City Park, which is located near the city centre. There are lovely walks to be had, ponds with ducks, and even a small farm with animals. It's perfect for relaxing and having a peaceful time with family and friends.

Discover the city's museums: Maastricht has several interesting museums, such as the Maastricht Natural History Museum, the Museum of Religious Art and the Mining Museum. This is an excellent opportunity to discover the history and culture of the city.