Safety measures in force
This page is updated after each National Safety Council. The measures in force are taken until further notice and can be re-evaluated according to the situation and the recommendations of the NSC.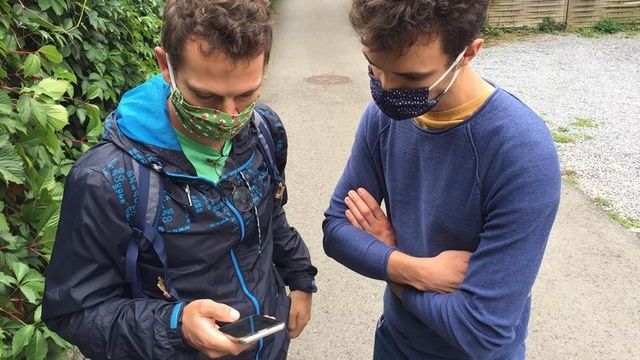 Players
Are games still allowed?
Yes you can still play all our games as long as you respect the rules imposed by the government. We therefore recommend that you play with members of your household/members of your bubble. In addition, the following rules will apply to ALL our games:
The mask is compulsory for outdoor games.
Teams are made of max. 4 people.
There will be no close contact with other teams or members of the Coddy team.
You are required to respect the safety distances, as for any activity.
It is recommended that each player plays on his/her own smartphone.
Use your hydroalcoholic gel before and after the games (although you will not have to touch anything).
No need to ask us if the nephew of your sister's cousin who doesn't live under the same roof but spends his vacations with you is part of your family bubble... Only you are in a position to know if your team is compatible with the health measures in place 😅
Halloween Events
Our Halloween editions can now be played freely, i.e. whenever you want, without reservation.
In case you made a reservation for 5 people for one of our events:
In case you purchased an old ticket that was valid for 5 people before the rule of 4 people was introduced, your tickets can be divided in 2: a code purchased for one team can be divided into two smaller teams to ensure your safety. You can do that yourself via the registration link that has been sent to you.
What about interactions with the others teams?
There are none. We assure you that our games are played independently, only with your team members and on your smartphone. You are free to play your Escape Game on the day and at the time of your choice, so competing teams will not come into contact with you.
I have symptoms, can I participate?
No. And we'd really appreciate it if you could stay home and warn people you've recently been in contact with.
Team building
The government encourages teleworking wherever possible. Under these conditions, team building is not recommended at the moment. However, when it is possible to organise yours, do it with Coddy is Covid-safe!
We recommend forming small teams. Each person must have a smartphone to follow the game, wear a mask and keep a correct distance from their teammates.
Outdoor games are recommended for a company activity as long as the participants respect the rules mentioned above.
Are there any special measures taken for groups?
Yes, with the Team Building option it is possible to send the groups from different locations so that they do not follow or cross each other during the game. It is also possible to start from the same place at different times: intervals of 10 minutes (or more) to avoid being grouped together in the same place when solving the riddles.
Please be assured that we do everything possible to ensure your safety. Our games remain playable as long as the measures taken by the CNS do not go against the rules we have established.
Let's still play together!