If you are here it is because you are lost in Bruges or you simply want to visit the city of Bruges. Here you will find different places to explore in this city that seems small but is not so small...
The Princely Beguinage Ten Wijngaerde
Begijnhof Ten Wijngaerde 8000 Bruges BE
Well, let's first define the word "beguinage" because even I don't understand it. Béguinage means convent of beguines and beguines are religious sisters who have taken vows of chastity... Basically, they are Catholic women who will never do things that are not very Catholic if you know what I mean! Coming back to the beguinage, you can walk around inside and observe the houses and the flora in this resplendent and very quiet place.
Church of Our Lady
Mariastraat 8000 Bruges BE
A church in a town is very classical when you don't know what to visit. But this one is not like the others, it is full of paintings that make up a unique art collection. Let's be honest, it's still a church so don't expect a cathedral. It is symbolic in the city of Bruges and you won't be able to miss it because it overlooks the little Venice.
Frietmuseum (Fries museum)
8000 Brugge België - Belgique - Belgien
Finally a museum we all want to visit! A museum that retraces the history of the famous fries. Just thinking about it I am drooling over. You can learn about the history of the potato that becomes a chip and learn more about the sauces that go with them. I'm sure that the fries have things to hide from us and that you won't immediately forget its history. Be careful, there is there is an entrance fee but frankly nothing will stand in the way of us and the Fries.
Spoiler alert: the fries are Belgian and not "French" fries. We should all rise up against this nonsense.
Brewery De Halve Maan
Walplein 26 8000 Bruges BE
After all the walking, sightseeing and chatting, you have to drink a beer at some point. For that, I have a good address for you, it is the brewery De Halve Maan. A little anecdote for connoisseurs, it is the place where the famous "Brugse Zot" is brewed. So pack up your carapils that look like gnat's pee and taste a real Belgian beer. You'll tell me all about it!
https://flic.kr/p/qQuPA2
But also...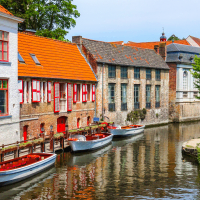 "Little Venice"
You can visit and discover Bruges while walking around on a large pirogue or a kind of fly boat. It's not very original, but there's romance in the air... You can take your girlfriend/ boyfriend along and enjoy a romantic moment. In this boat trip, you will cross the whole city and pass under ten bridges, each one with a different story to tell. Just one last thing, check the timetables before going to visit because my little finger tells me that it is probably closed between 29/10 and 15/12.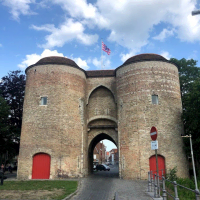 The Walls of Bruges
You can settle down in the lawn to sip your beer, but be careful not to abuse it too much. There are 9 parks in Bruges, so you'll have plenty to choose from. You will come across hikers walking through the various green spaces. If you like walking, don't hesitate to take your walking shoes and backpack with you and set off to discover these beautiful parks. If you are afraid of not walking enough, just the ramparts that surround the whole city and the walk that is attached to them makes a total of 26 hectares .
Rozenhoedkaai
Rozenhoedkaai 8000 Bruges BE
Welcome to the city's most popular photography spot, a hot spot that has been on Instagram for a long time. In the past, rosaries were sold here. Today it has become one of the city's most beautiful attractions. A great place to take selfies with your soul mate. In summer as well as in winter, morning and evening, the romantic magic of Rozenhoedkaai always works regardless of the sun or rain. So you'll be in for a real treat!
Groenerei
Groenerei 8000 Bruges BE
All these charming canals are gems, but the most beautiful one is undoubtedly Groenerei. One of the most attractive places in Bruges. Along the beautiful skyline, there are enough green belts to relax completely, and there are romantic bridges everywhere. It's nice to walk along the waterway. Sit down on one of the benches and enjoy it as much as possible!
Minnewater
Minnewater 8000 Bruges BE
This is without a doubt the most romantic place in Bruges. The Bruges people used to believe that lovers or water spirits ("minnen" in Dutch) lived here, and this is where the city's lake gets its name from. Coupled with the legend of a tragic love, mixed with mysterious trees and rich green plants, you will have the recipe for a dream place. Posts on Instagram? You will be able to take the most beautiful pictures of the Lake of Love bridge or next to the lock. It will be just perfect and without the need for filters.
The Chocolate Museum
Wijnzakstraat 2 8000 Bruges BE
The chocolate museum allows visitors to immerse themselves in the history of cocoa and chocolate. From the Mayas to today's gourmets, including the Spanish conquerors. Children can discover the museum in the form of a very playful game. Not only can you watch the process of making chocolate, but you can also taste it, yummy! The Choco-Jungle theme bar (which is also part of the museum) is a five-minute walk from the hotel in Vlamingstraat No. 31.
Unfortunately we're coming to the end of this article, but if you found it interesting and want to visit some of these places or Bruges in general, I have the solution for you. Coddy has created two routes in Bruges to be played with your smartphone (an Escape Game about zombies and another one created for the purpose of visiting the city): you can find them and book your ticket for these games on the website.
#Belgium
#Visit
#Bruges
Written by: Estelle
Updated at: 02-03-2023
Here are some other articles that might interest you.