The concept of urban Escape Game
A new way to play an escape game, via your smartphone, by following a route in the city center filled with puzzles. You will be guided and geolocated by the application in each place you visit in order to solve all the games and riddles.
An excellent choice to discover the city of Bruges as a team, with your family or friends.
Escape game in Bruges: a fun and original visit
Are you tempted by an escape game in Bruges? The medieval city in Belgium, the little Venice of the North, lends itself ideally to an open-air escape game. Everything about it appeals. Its artistic masterpieces, its gentle way of life, its romantic atmosphere or its architectural wealth are all assets of Bruges, the jewel of Flanders, which makes it an essential stopover in Northern Europe.
All you need is a well-charged and connected smartphone and our downloadable application. Then you're off on an exciting adventure through the streets and districts of Bruges, solving puzzles! Our escape game in Bruges will give you the opportunity to explore this amazing city in a different way! Everything is in your smartphone, you will be guided and oriented. Wake up the Sherlock Holmes in you and hunt for clues in the most secret corners to solve the enigma.
The escape game Bruges better than the escape room
An outdoor activity like no other, the life-size escape game is a trendy variant of the traditional treasure hunt and escape room; it is an adventure that is carried out with the help of your smartphone.
You will walk through the streets of Bruges and discover various places in the city with the help of the map included in the application. You will then have to solve puzzles that sometimes require a lot of observation in order to spot details or information that are not directly perceptible.
The main advantage of the Urban Escape Game is the tourist dimension it adds to the game. The urban escape game is the best way to get to know a city, its key places as well as its hidden corners, in a fun and original way.
(Re)discover Bruges by solving riddles
We invite you, for example, one scenario among others, to play a private detective and conduct an immersive police investigation in the centre of the city! While investigating a commonplace scam against a billionaire CEO, you'll learn that a bomb is hidden in the city and is about to explode. You have two hours to search for clues, scour locations and save your city! Will you be able to defuse the bomb in time?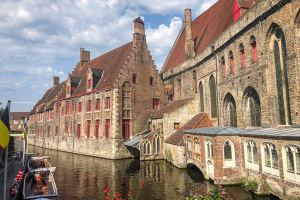 Mariabrug
Sint-Janshospitaal - Broederklooster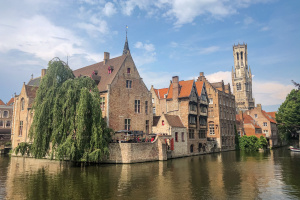 Rozenhoedkaai
De Dijver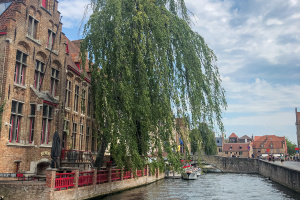 Dijver and Nepomucenusbrug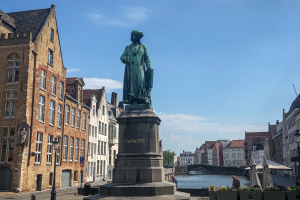 Jan van Eyckplein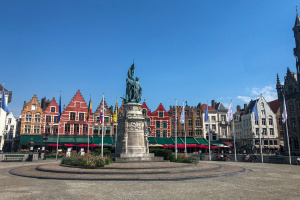 Grote Markt
The advantages of visiting Bruges through a treasure hunt
Thanks to original scenarios, our escapes games in Bruges offer participants the possibility to stop at various emblematic places in Bruges, to be in the middle of the action and to dive into an immersive adventure.
With the help of your phone, you will make incredible cultural discoveries while having fun.
You'll move around in a real world, but with a little bit of sublimation thanks to our original scenarios.
You will no longer be a simple visitor walking through the streets, rediscovering the different districts of the city, but you will become an adventurer, a hero of a quest! This is the promise of our urban escape games in Bruges.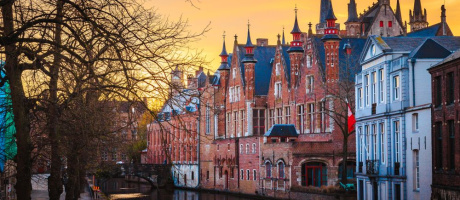 Explore Bruges and discover its hidden gems
Choose an urban adventure in Bruges now and in a few minutes you'll be exploring the city while having fun.
Choose an adventure
The urban escape game: a family escape game
Children are probably the hardest to keep focused during a guided tour. They are quickly dissipated and don't care about historical anecdotes or seeing yet another church on their way!
This outdoor escape game will allow you to entertain your children while showing them around Bruges, without them even realising it!
It's the perfect way to explore the city, let them blow off steam, have fun with various puzzles and work as a team as a family.
The best attractions in Bruges
Sint-Janshospitaal - Broederklooster
Dijver and Nepomucenusbrug
The Princely Beguinage Ten Wijngaerde
The Markt ("Market Square") & Belfry of Bruges
Sint-Bavo-en-Sint-Machutuskerk
Heilige-Kruisverheffingskerk
Our good plans
Neighbourhoods not to be missed
📍Rozenhoedkaai, the most famous photography point
📍The Beguinage, for a timeless break in the quiet
📍The Hanse district, the old commercial crossroads
📍Jan van Eyckplein, the former Manhattan, to the quiet working-class neighbourhoods
📍Minnewater, for a romantic stroll
The 5 best restaurants
🥑 Nxt Door, for an original street food experience
🥩 Bohemian Burgers, for a quality burger
🍚 Lobster Pot, for excellent mussels and chips or other seafood
🥕 Bistro Refter, for French-Belgian classics
🌶 Nomad, for a taste of their farm fresh produce
Top 5 bars
🍷Café Rose Red
🍸Muttley's
🥃Comptoir des Arts
🍺De Garre
🍹't Poatersgat