Outdoor activities during All Saints' Holidays
The autumn holidays are approaching (or are already here, depending on when you read this article) and as usual, you have to figure out how to keep your kids busy. Two weeks this year!
As winter is not yet (too) present, you might as well take advantage of it to do an outdoor activity with your children / grandchildren / godchildren / nephews / ...
Urban Escape Game, do you know about it? 😊
It's an outdoor activity, to be done in the city of your choice. It is an urban adventure game in which you will have to solve puzzles as a team.
How does it work? Find out here.
Activity for children - Peter Pan 🧚🏼
As a first urban escape game theme, we want to present you our latest game: Peter Pan and the Lost Shadow. It is new, it is beautiful, it is cool!
A family game, as it is aimed at children from 8 to 12 years old. There are three levels of difficulty in this scenario, so that children can choose the level that really suits them and make sure that their experience is the best.
The aim of the game? To help Peter Pan find the lost children!
The route is not too long, the game lasts about 1 hour. It is already available in 6 cities today!
You can find the list here 👇🏻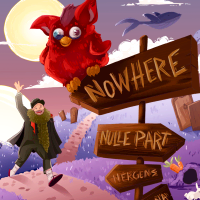 Activity for teenagers - Crazytopia 🤡
The second game we wanted to introduce you to is more for teenagers and young adults. It is a completely crazy scenario: Crazytopia! 🤡
What's the goal of the game? Face ridiculous phobias, take on the challenges of the Crazytopia world and try to get back to your world safe and sound!
Fairly quick route too, the game lasts about 1H30 (maximum, but it all depends on your team's level!)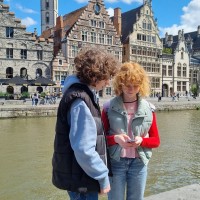 The Urban Escape Game: a great outdoor activity with your kids
Do you know about the Urban Escape Game?
It's an outdoor activity, to be carried out in the city of your choice. It's an urban adventure game in which you have to solve puzzles as a team.
How does it work?
It is played with one or more smartphones per team. The aim of the game is to succeed in the mission given at the beginning of the game by solving all the riddles along the way. You are guided by your smartphone, the map and the instructions. It's fun, you play and discover the city at the same time!
Who is it for?
In teams of 2 to 6 people, with your family or friends. The children can play with each other (if they already know how to use a smartphone and read) or with you to guide them if they are still too young.
Not too hard?
It's super intuitive, the application is easy to use. The puzzles have different levels of difficulty depending on the game you choose, and clues are always there to help you! Complicated enough to be fun, but simple enough to keep you moving forward and never get stuck.
Where?
In the city of your choice, among those available on the website: www.coddygames.com/fr
The games are available in 9 countries, so even if you're abroad on holiday, there's a way to explore the area with Coddy. Just check the link above for the cities where the games are available.
Visiting cities
Did anyone ever tell you that this is the best way to discover a city? 😉
No more boring guided tours, with Coddy games, you visit a city by playing!
Playing with a smartphone won't stop you from discovering the secrets of the city, quite the opposite. To answer the riddles, you'll be forced to look up, look around and observe your surroundings. 👀
In this way, by following the defined routes, you may even come across corners you might not otherwise have gone to. Little hidden gems of the city! But you'll also discover familiar corners, because if this is the first time you've set foot in the chosen city, don't worry, the routes are made so that you can really soak up the city. 🗺
Get outside, move around and play outdoors🚶🏻
Looking to get your kids moving, as they are constantly locked in your house? Urban Escape Games is the best way! 😌
A mix of physical exercise to keep them active (sometimes there's a timer and timing to keep to!), a posed walk to discover the surroundings and thinking to answer the puzzles. 🧩
A fun and original activity, without completely cutting them off from their smartphone (we mustn't be sadistic either 😉).
After 1 to 2 hours of play, you'll see that getting them to move around and organize an outdoor activity will no longer be a problem for them, they'll even ask for more! As long as it's a Coddy! 🙃
Written by: Coddy | Updated at: 13-10-2022
Are you interested in the Lifestyle? Here are some other articles