The paradise for art and history lovers: Florence
Florence is known as a real museum-city, capital of Tuscany, probably one of the most beautiful cities in Italy 🤩
To spare you the search for endless activities, we've listed the places to go and see for a successful stay!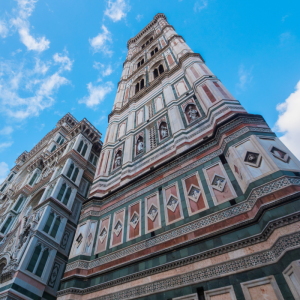 1. Giotto's Campanile Tower
In the mood for a breathtaking view 😎
Visit Giotto's Campanile tower, which is located in Piazza del Duomo. Standing at 85 meters high, the famous tower makes an impact!
After climbing the 414 steps of the monument, a breathtaking view of the entire city of Florence and its surroundings awaits you!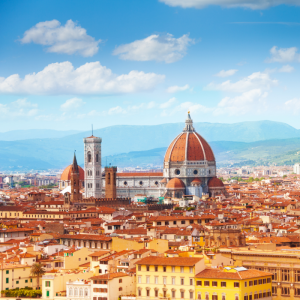 2. The Cathedral of Santa Maria Del Fiore ("Saint Mary of the Flower") 
The cathedral of Santa Maria del Fiore is also called "Duomo" because of its enormous dome, which made its reputation.
A real spectacle for the eyes and the lovers of architecture!
To know: Located in the historic center of Florence, it has often been perceived as the work that marks the beginning of Italian architecture in 1420. Its architect, Filippo Brunelleschi, is considered the inventor of perspective and engineering!
The +: Its exterior is made of green, pink and white marble. Plus, it has several elaborate doors and statues that are worth a look 😉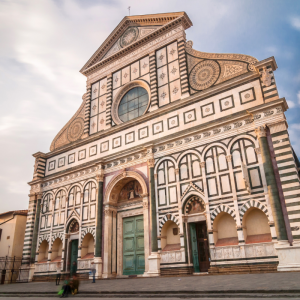 3. Santa Maria Novella
The Santa Maria Novella neighborhood is a must-see 🤩
Famous for its gigantic church, the neighborhood calls above all for strolling and cappuccino breaks! But also, to visit the famous Officina Profumo- Farmaceutica di Santa Maria Novella.
Inside, you will find a wide selection of natural and organic products that make the reputation of the pharmacy: creams, care, elixirs, perfumes... There is something for everyone! 🌺
To know: Surrounded by the oldest pharmacies in the world, the Officina is an institution and it is thanks to the Queen of England, who is among its most loyal customers. 👸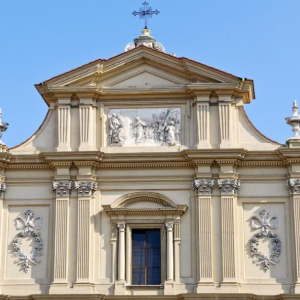 4. Musée di San Marco
A cultural outing guaranteed 🎨
The Museo di San Marco was once a Dominican convent.
Now open to the public, it houses the largest collection of paintings by Fra Angelico, a renowned painter and monk, in the world.
Visiting this building you will be able to observe religious frescoes in every room, considered true works of art!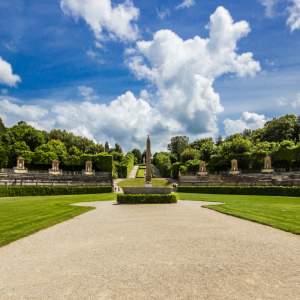 5. Boboli Garden
It would be a shame not to pass by the Boboli Garden during your trip to Florence!
Often compared to Versailles, the garden is located just behind the Pitti Palace. It offers a lush and luxurious interlude worthy of the greatest fairy tales. 🧜
Find there the Porcelain Museum, the Costume Gallery, the Great Grotto but also fountains and rose beds that give life to this timeless place! 😍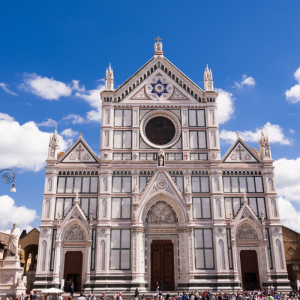 6. Santa Croce
Santa Croce est située sur la Piazza Santa Croce, elle est la plus grande église franciscaine d'Italie ! ⛪
Sacrée, elle abrite les tombeaux de plusieurs grands artistes dont Michel-Ange et Dante Alighieri, mais aussi ceux de Nicolas Machiavel et Galilée.
Vitraux et fresques exceptionnelles ornent les murs de l'Eglise.
A savoir : si tu es curieux et que tu veux voir d'autres tombes célèbres, rendez-vous dans les chapelles des Médicis situées dans la Basilique San Lorenzo. 😉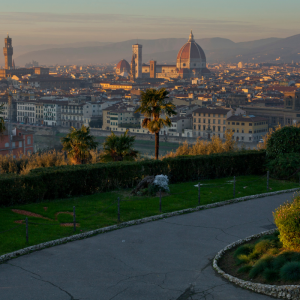 7. Piazzale Michelangelo
Not to be missed! ✅
Piazzale Michelangelo is one of the most famous places, known for its legendary view of the whole city, especially at sunset time 🌅
To know: You will find a bronze replica of Michelangelo's David, as well as restaurants but also various stalls and merchants.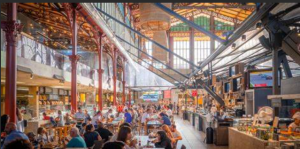 8. The Market of San Lorenzo
Food lover? Fill up on flavors and go on a journey to discover new culinary sensations 👨🍳
Don't miss a walk through the famous leather markets and Mercato Centrale. This covered market is set in the heart of a 19th century building.
For food lovers, this is the place not to be missed! Let yourself be tempted by a little Florentine tasting 😏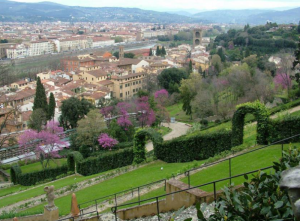 9. Giardino Bardini
Want to enjoy a beautiful sunset in Florence? Go to the Giardino Bardini garden 🦚
Typical Renaissance garden and above all prized for its belvedere.
Set on 4 hectares, the garden can be visited from Via dei Bardi or Costa San Giorgio and promises you a charming stroll among the roses 🌹
🚶Take a stroll along the small paths that will lead you to the fountains and the canal before taking the central staircase to reach the top of the garden.
From up there, a breathtaking view! 🤩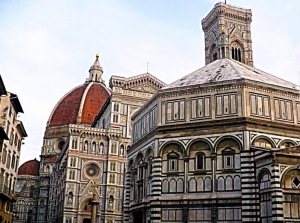 10. St. Jean Baptistery
Nicknamed the "Gates of Heaven," the Baptistery of St. John the Baptist is one of the oldest and most respected buildings in Florence and has always held a special place. 🥰
It arouses curiosity with its exterior made of green and white marble. Its three sets of stunning bronze doors also call for discovery.
To know: Today, the date of its foundation is uncertain, although it is generally considered to have been built in the sixth or seventh century.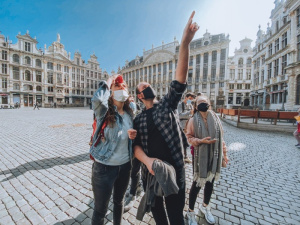 Do you want to go through all these must-see places during your stay?
Thanks to Coddy it's possible ! 🤩
With family, friends or even colleagues, escape for a while in an urban escape game!
Mix city tour and puzzle solving! Let yourself be guided to all these places and much more 🌈 A new way to visit the city that will make your visits and travels rewarding 😎
An activity out of the ordinary!
Here are some other articles that might interest you.